WONDER Creativity Festival is coming!
The future is now. A new generation is ready to sink its teeth into tomorrow's societal challenges in its own atypical and rebellious way.

Not shying away from experimentation, they enthusiastically embrace the latest digital technologies without renouncing their classics. They go phygital...

In these challenging times, WONDER helps you broaden your view with products and concepts that will make our future.

Be surprised at 8 Kortrijk city locations, dare to look differently at what is and be amazed by what is to come ...
20 October to 6 November 2022
Thursday to Sunday, 11 a.m. - 7 p.m.

Free entrance
Centre Kortrijk with Budafabriek as main venue, but also Texture, 4n20, Kunst in Huis, Buda-tip, O-L-V Church, Broeltorens, K-orner
A selection of the programme
WE ARE THE NEXT GENERATION

Discover the next generation of Belgian designers within product design, architecture, graphic design and game design.

By Designregio Kortrijk and partners
📍 Budafabriek

BIND collective

8 Flemish designers pay tribute to raw material, material, object and space under the name BIND collective.

By Designregio Kortrijk in collaboration with Giel Dedeurwaerder
📍 Budafabriek
Super Tactility Soft Technology

A selection of young designers (all alumni of WE ARE THE NEXT GENERATION) from various fields seek the intersection between tactile sensitivity and contemporary digitality.

By Texture
📍 Texture

input *`please°- GENERATE output

20 designers take you through an exhibition highlighting the diversity of generative design, where analogue, synthetic, digital & organic subjects generate input to output.

By Howest Industrial Product Design
📍 Budafabriek

The circular future of waste through cocreation
What happens when you get designers to think about new possibilities for old meter covers, rubber scraps or surplus awning textiles?
By Designregio Kortrijk, Voka West-Vlaanderen, WAAK, Howest, Intercommunale Leiedal and W13
📍 Budafabriek
Mimesis
The group exhibition 'Mimesis' explores the boundaries between art and design.
By 4n20
📍 4n20
THE STAPEL - Models

Master students of Architecture at Sint-Lucas Ghent developed concepts around vertical stacking of business parks.

By Leiedal + TRANS-FALLOW-BC-ARCADIS-CONNECT-RASSCHAERT
📍Budafabriek

Every meal a little happiness

Through a narrative immersive experience, we get an insight into the innovation process between a company and design agency.

By Designregio Kortrijk, VOKA West-Vlaanderen and Zorggroep H.Hart
📍 Budafabriek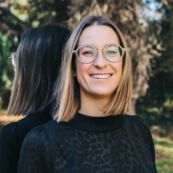 More info? Contact
Lisa Declercq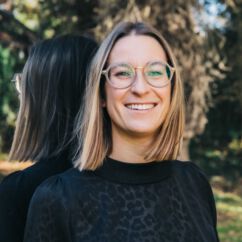 Lisa Declercq
Lisa is responsible for the offline and online visibility and communication of Designregio Kortrijk. She is always looking for the next big thing in young design talent and builds up the creative community of the organisation.