Circular co-creation hub
South-West Flanders is known as the manufacturing region in Belgium. One in three production companies in Belgium is located in this region. They are often family businesses from the textile sector, the metalworking sector and the plastics processing sector that have grown out of the traditional flax industry. For these SMEs, there is a compelling demand to transform into an industry that deals more sustainably with the available materials and raw materials.
The Circular co-creation hub (CICO HUB) joins forces to bring companies together and support them in this transition to circular entrepreneurship.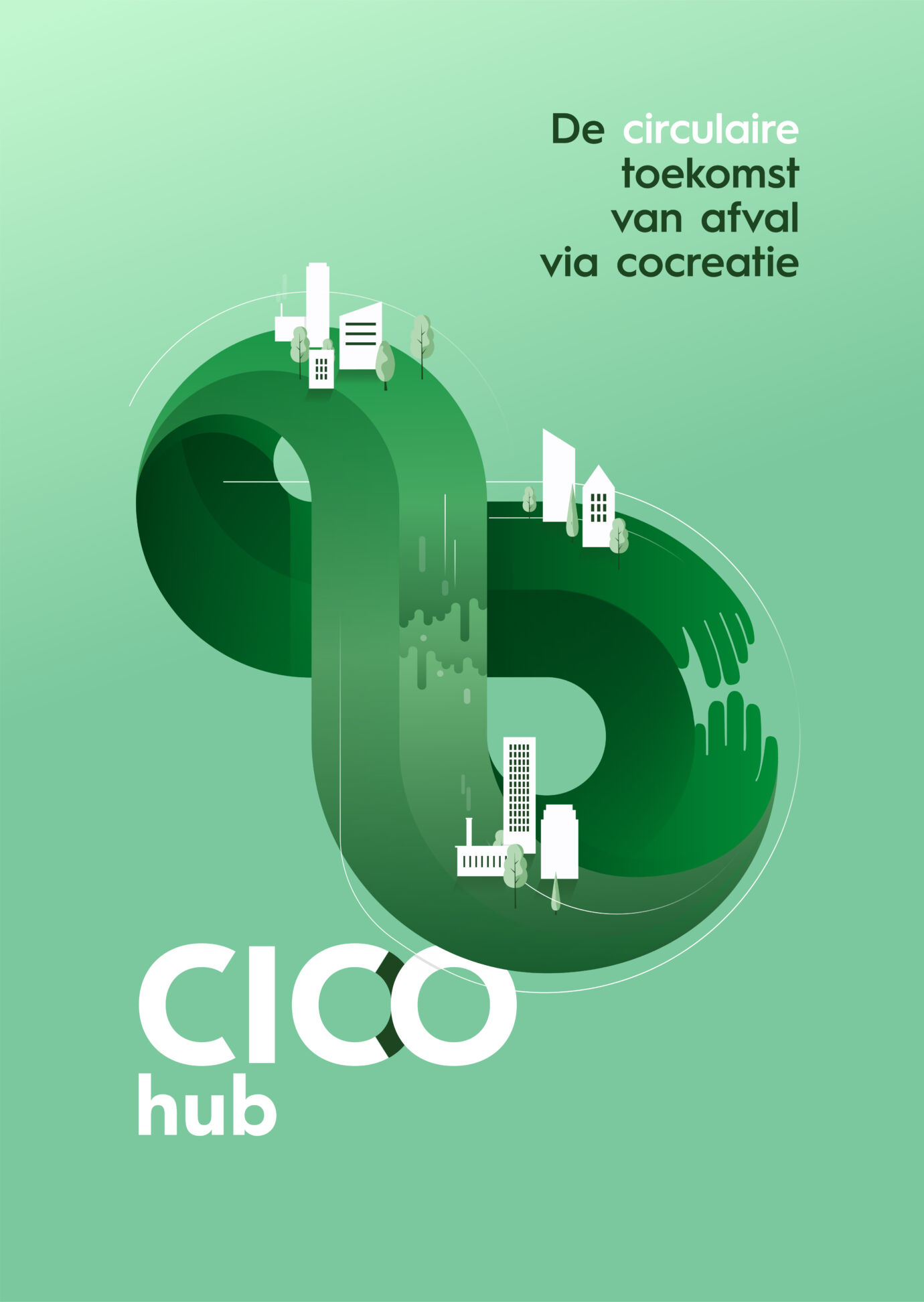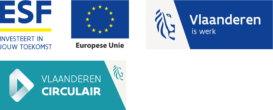 Circular Forum: bringing all actors together
The Circular Forum is a platform for manufacturing companies, custom companies, waste processing companies, service providers, companies active in the sharing economy, knowledge centres, creative enterprises,... with the central theme: waste valorisation and circular economy.

Collaboration with actors from different backgrounds and with different competences often brings surprising ideas to light. This platform therefore aims to increase knowledge on waste valorisation and circular entrepreneurship, discuss problems and barriers and create (chain) cooperation.

Where are we now? What can and are we already doing? What challenges do we still have to overcome?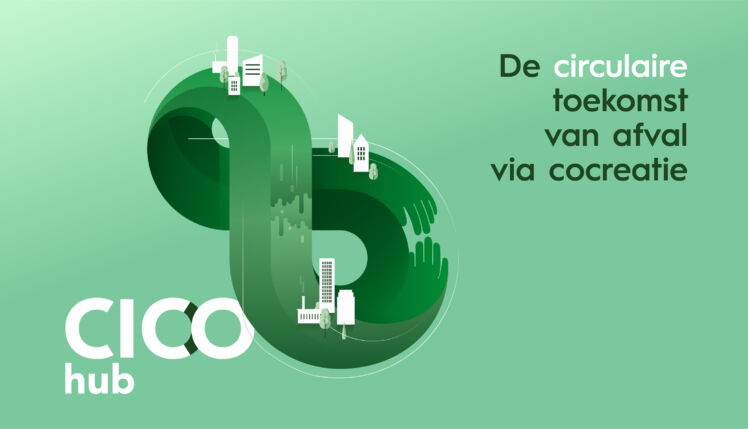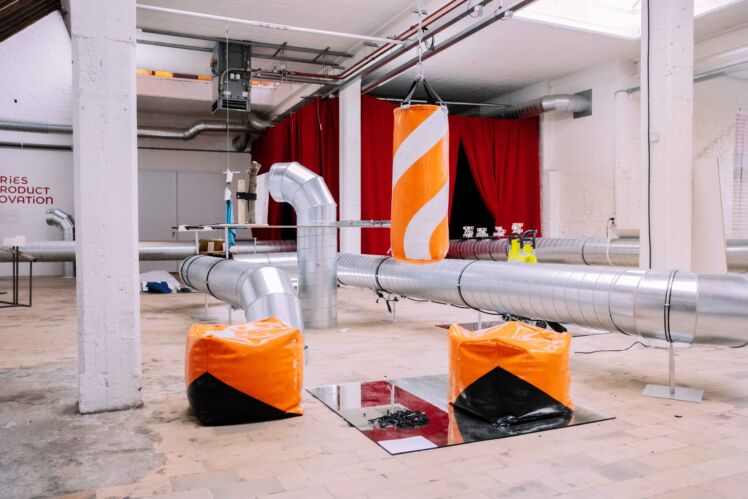 The circular future of (production) waste: valorisation of residual flows
From April 2021, within this part of the project, 3 manufacturing companies were selected to be given the opportunity to identify and explore their residual streams in collaboration with students and design companies to then cocreate with a tailor-made company to come up with new products and a valorisation of their residual streams.

The companies are Fluvius, Sunconfex and Moerman, they were paired with eight designers: Studio Allossa, Huho Design, EDMIRE.design, Tillup Design Studio, Studio AMA, Studio L'Atitude, Surplace and Studio Obi-One.

In 2023, a similar track will be set up with the city of Kortrijk. Students and designers will work with event flags and heras cloths to develop new products or services for the city and its citizens.
Design region Kortrijk in collaboration with Voka West-Vlaanderen, Howest, Intercommunale Leiedal, WAAK and W13 (social economy and tailoring companies) and with the support of ESF and Flanders Circular.
Moerman
Moerman, based in Meulebeke, is a manufacturer of floor and window squeegees. Rubber sheets are optimally divided into parts for the different products. During the production process, however, rubber residues are inevitable. Studio L'Atitude, Surplace and Studio Obi-One were given the task of looking for solutions to these ruber residues.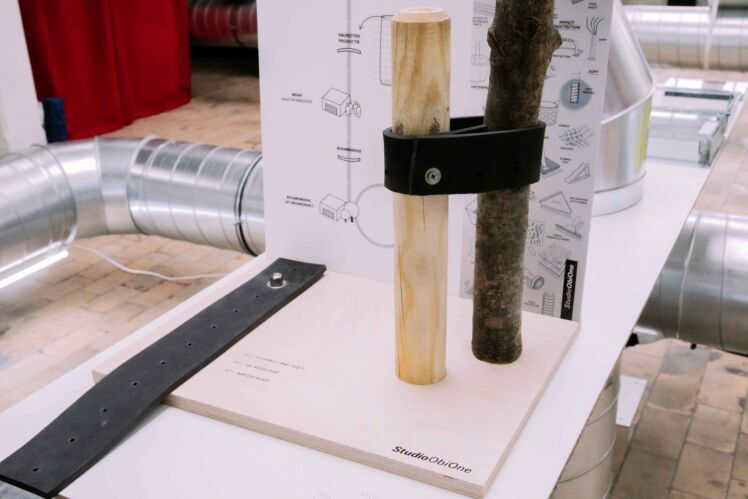 Studio Obi-One
With few operations, the longer synthetic and EPDM ruber residues can be reused as tree ties. The material has ideal properties for outdoor use. The thick, soft and flexible properties of the rubber also prevent constrictions in the trunk.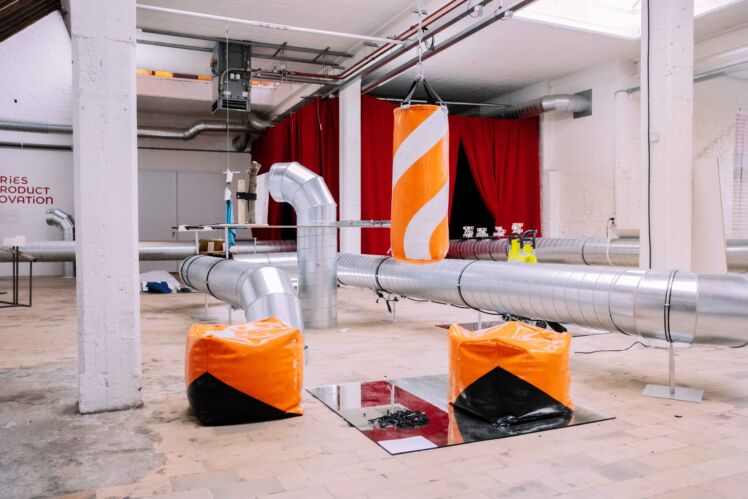 Studio L'Atitude
Meet BASHED; the up-cycling story where two residual flows have met to form a duo of functional and aesthetic products. Using residual rubber as padding and used truck tarpaulin 'bache' as a shell, Studio L'Atitude brought the BASHED_Punchbag and BASHED_Pouf to life.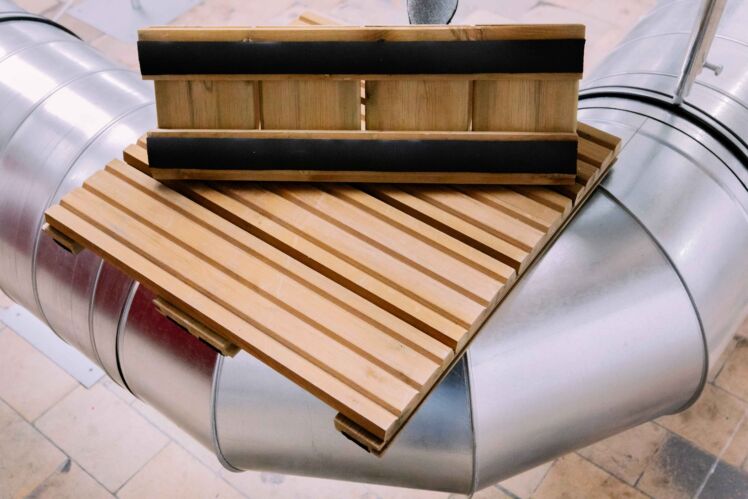 Surplace
Together with Moerman and other local players, Surplace developed a sustainable tile for flat roofs. The tile, consisting entirely of waste streams, requires no permanent fixings, thus extending the life of both the floor and the underlying roof structure.
Fluvius
Grid operator Fluvius participated with three different residual streams. Given the digital transformation, there is a waste mountain of analogue electric meter covers. In addition, there are old light fittings that are being replaced by smaller energy-efficient lights. Third, the merger of Eandis and Infrax created a stream of unusable work clothes. Edmire, Studio Allossa and Huho Design each addressed one of these challenges.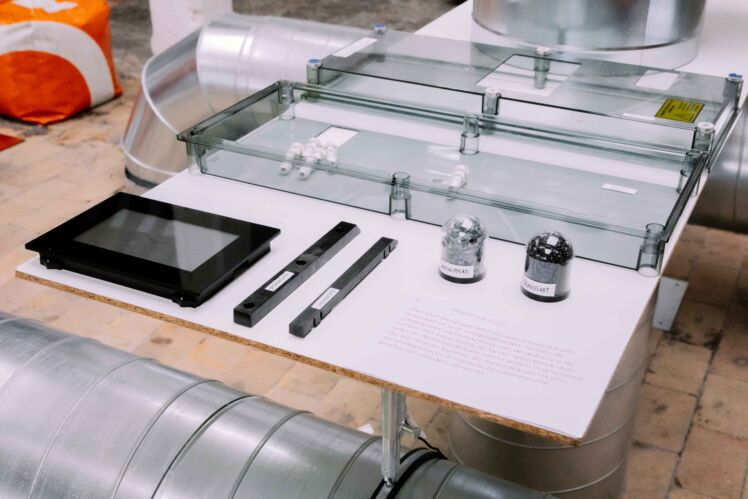 Huho Design
With a mountain of 900 tonnes of metre lids, some options arise. However, given the complex composition of the lids, this is not easy, so the best option proved to be to convert the meter lids into granules. That way, after a recycling process, the meter lids can be made into new, meaningful products.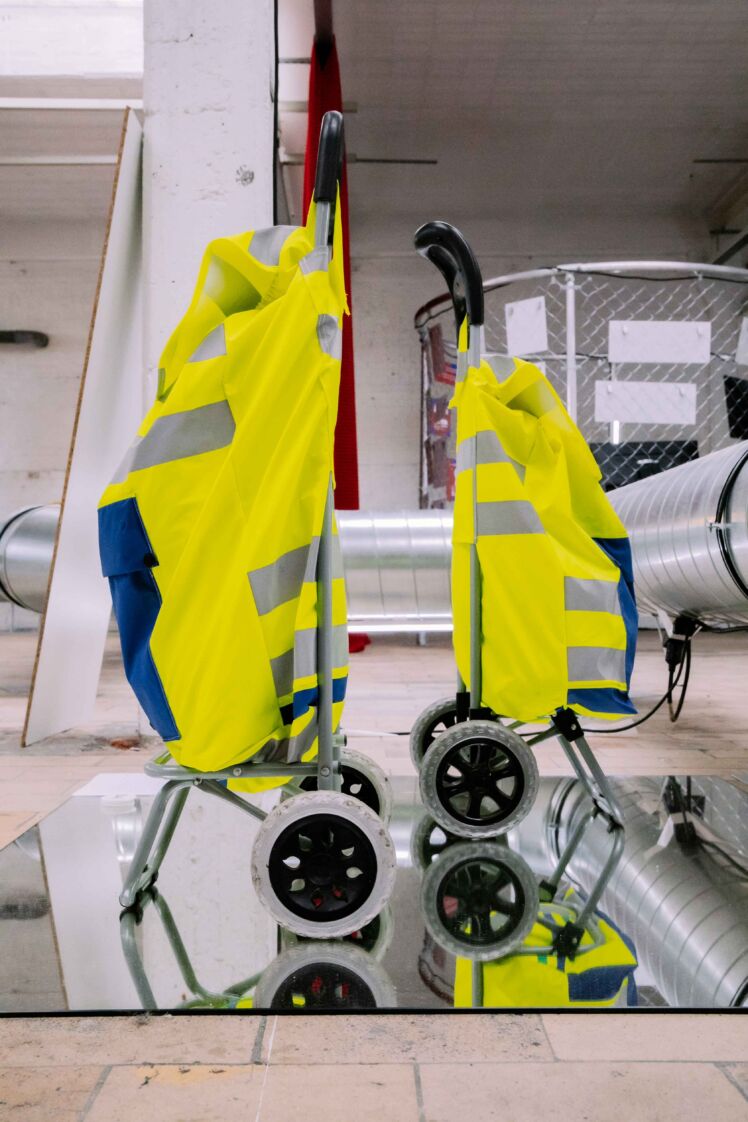 Studio Allossa
The merger of Fluvius and Infrax in 2019 created a flood of unusable work clothes. The parka jackets are an example of this. Unfortunately, given their protective function, these cannot be recycled to date. Studio Allossa chose to upcycle the jackets into a rainproof shopping trolley; "Flor, the Fluvius Trolley". In addition to their annual support to The Food Bank, Fluvius can now offer the trolley to the collector to transport the food parcel.
Sunconfex
Sunconfex is a well-known player in made-up sunshade fabrics. All sun protection fabrics are custom-made for each exterior project. In the process, long cut pieces are created. The smaller pieces of these cannot be reused in the process. These scraps were submitted to Studio AMA and Tillup.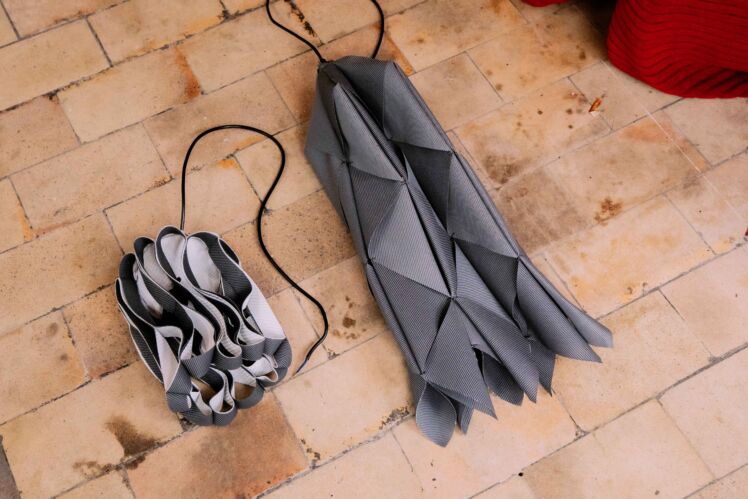 Studio AMA
The designs of the various outdoor products find their origin in the materiality of the sun protection fabric and its capabilities: this both aesthetically and functionally. The designs highlight transparency, ductility, resilience and layers.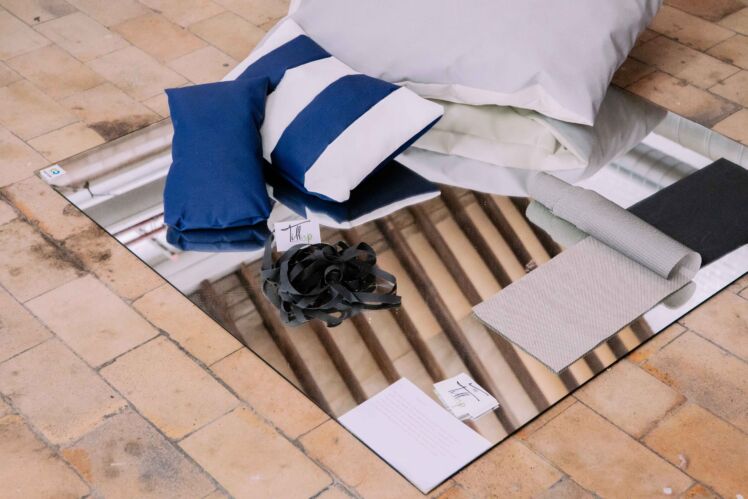 Tillup
Based on its strong quality for exterior use, Tillup used the cuttings to develop new outdoor applications. From this, their "Suncollexie" was born; various products for outdoor use, such as a windbreak and cushions in different sizes.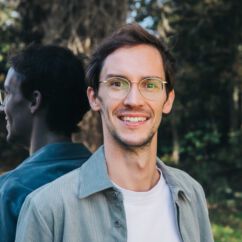 Sébastien Hylebos
Sébastien assists businesses in innovation and design. He is also responsible for projects on circular economy and digitalisation in cooperation with companies and designers.