WONDER Creativity Festival
The future is now. A new generation is ready to sink its teeth into tomorrow's societal challenges in its own atypical and rebellious way.
Not shying away from experimentation, they enthusiastically embrace the latest digital technologies without renouncing their classics. They go phygital...
In these challenging times, WONDER helps you broaden your view with products and concepts that will make our future.
Be surprised at 8 Kortrijk city locations, dare to look differently at what is and be amazed by what is to come ...


Practical:
20 October to 6 November 2022
Thursday to Sunday, 11 a.m. - 7 p.m.
Free entrance
Centre Kortrijk with Budafabriek as main location, but also Texture, 4n20, Kunst in Huis, Buda-tip, O-L-V Church, Broeltorens, K-orner
wonderkortrijk.be
Exhibitions by Designregio Kortrijk
Every meal a little happiness
One of the little joys of residents of residential care centres is the whole meal event. From choosing this meal to dining together with fellow residents. For a residential care centre, however, there is a lot of organisation involved between these two phases.Designregio Kortrijk, VOKA West-Vlaanderen and Zorggroep H.Hart launched an innovation project last autumn in which the meal process within the H.Hart care group was analysed and improved on the basis of the designthinking method.Discover this process through a narrative immersive experience.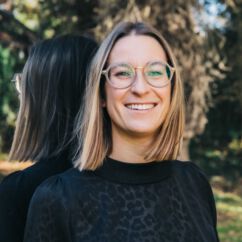 Lisa Declercq
Lisa is responsible for the offline and online visibility and communication of Designregio Kortrijk. She is always looking for the next big thing in young design talent and builds up the creative community of the organisation.