WONDER Creativity Festival 2023
SAVE THE DATE 19.10 – 05.11.23

WONDER Creativity Festival expands your view of the future
Between 19 October and 5 November, WONDER Creativity Festival takes you on a free trail through the centre of Kortrijk past numerous creative exhibitions, installations and events. Once again, expect tons of inspiration, colourful insights and innovative ideas at more than 25 locations!
WONDER this year will be wider and more varied than ever. What to expect:

collectives of designers presenting new work in a unique setting,
galleries bringing together (inter)national artists,
street art by companies and illustrators,
Belgian design students showing what they have to offer,
shops opening up space for creatives,
companies collaborating with promising students
and much more!
Some highlights....

Budafabriek
The Budafabriek gathers a lot of promising Belgian design talent in exhibitions by Designregio Kortrijk, Kortrijk Xpo and Howest: WE ARE THE NEXT GENERATION, Eye on Design and INSIDE OUT, STORIES 20*IPO. Graphic and illustrative platform BuroMuro builds a Wonderwall.

Broelkaai 6
Broelkaai 6 opens its doors to Belgian and international contemporary artists.

Texture
Flanders DC shows a selection of designers from their design platform FOR THE NOW in Texture and VAKlab Bokrijk exhibits the winners of the BKRK award with a focus on contemporary braiding techniques.

Broeltoren
On the first two floors, the Belgian Design Pavilion exhibits in collaboration with Kanvas. In the ridge of the Broeltoren, Stijn D'hondt moves the audience with the exhibition Lost Hearbeats, featuring fifteen stories of loss translated in an audiovisual way.

De Beste Kamer
The plastic chair reinvented. Together with Danish furniture brand Muuto, De Beste Kamer brings the sustainable and circular story of their Fiber chairs.

Atelier Nooitgedacht
Atelier Nooitgedacht invites the production house Tegenadem, who will build a new bridge between musicians and audience with an experimental sound and recording machine. In addition, Yani Vandenbranden will examine with fellow designers the interpretation of the word 'design'.
Bespoke HOSPITALITY for companies and associations

This year, for the first time, we offer companies, associations or organisations the opportunity to use our main location, the Budafabriek, as a creative and inspiring setting for events, receptions, dinners, conferences, staff parties or product launches.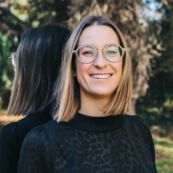 More info? Contact
Lisa Declercq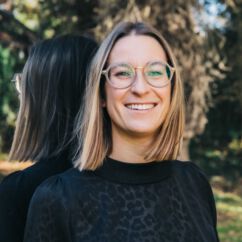 Lisa Declercq
Lisa is responsible for the offline and online visibility and communication of Designregio Kortrijk. She is always looking for the next big thing in young design talent and builds up the creative community of the organisation.