Designer Club #8 Fablab stories 14.11.19
Are you a designer and do you need tools for your projects? Discover the specifics of different fablabs and what they can offer you during this 8th edition of the Tripod Designer Club.
PROGRAMME


17.45 Welcome

18.00 Introduction
Khadija OMARI, Parc Manager - Zone Tournai, IDETA

18.05 TRIPOD news - Alice Vadurel, Project Manager, lille-design

18.15 Fablab story - Presentation of the fablab philosophy - Elodie Wannez, Project Manager, Wap's Hub

18.30 Pitch Lab - 4 fablabs present their specific offer

Fab - C (Charleroi)

Fab-C is a ULB service within the creative hub of Charleroi Métropole. This digital makerspace is open to all and one can build almost anything there. Delphine Dauby, FabLab Manager, ULB Charleroi

Institut catholique d'arts et métiers ICAM (Lille)

The ICAM Lille site has a technical platform, equipped with various technologies, that gives companies access to services for prototyping, design, assembly, testing, qualification, etc. "The idea is to speed up the development phase of a product in order to be able to offer it more quickly on the market."

Mathieu Fromont, Responsible of the Pl@teform'Icam
Ingrid Dhalluin, Manager Services to Enterprises, ICAM

BUDA :: LAB (Kortrijk)

BUDA::lab is a public workshop where creatives, designers, makers, children, students and schools can get creative. Come and turn your ideas into projects, follow workshops to learn new skills and meet the community of makers!

Lisa Declercq, Project Manager, Designregio Kortrijk

FabLab Wapi (Tournai)

FabLab Wapi is open to the public and offers all kinds of tools, including digital machines, for the design and production of objects.
François Bouton, FabLab Manager, Wap's Hub

19h00 Designer & Fablabs - Discussion avec Salopette Studio
What can fablabs mean for designers from a technical point of view, for the development of ideas and projects and in terms of collaboration?
Salopette Studio is an innovative and sustainable design agency founded by a French-Belgian duo based in Kortrijk: Martin Ripoche and Gautier Grouselle. Both are always looking for new materials and new ways to transform them. They will share their experiences and help us understand the benefits of fablabs, those places of exchange and experimentation, the extra spaces that foster the development of projects.

This conversation will be moderated by David Ferron, Project Manager Future Design & Industry and host of Clubimpression3D - CCI Grand Lille.

19h20 Q&A

19h30 Network reception

Register viatripod-design.eu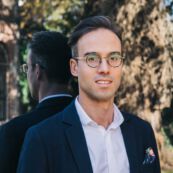 More info? Contact
Stijn Debaillie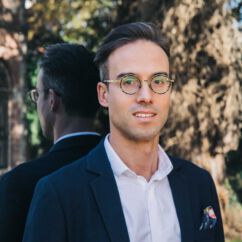 Stijn Debaillie
Coordinator
As coordinator, Stijn has been taking care of the ins and outs of the organisation for 9 years now. He is always looking for exciting opportunities for the organisation, both as a subsidy project or as a service.For two years now, Stijn has also been chairman of the 41 UNESCO Cities of Design, through which he exchanges knowledge and projects and builds up an international network for the organisation and the Kortrijk region.