Trybou showcases its kitchen skills at the KIOSK
In the KIOSK we are once again presenting a unique collaboration between a company and creative talent for the summer period.

Staden-based Trybou Kitchens has been the specialist in custom-made interiors for 90 years, with a specific focus on kitchens. CDG Studio is a young architecture and design studio based in Kortrijk. For the presentation of Trybou in the KIOSK, the architects devised a presentation with signature kitchen that highlights all Trybou's qualities. A fine example of cooperation and expertise, with a lot of local partners!
Trybou creates the kitchen you need
Trybou is ready to meet the needs of both private and professional customers. They offer a wide range of options, including individual bespoke kitchens, large-scale bespoke projects and affordably chic kitchens for building promotion. Their expertise extends to the entire process, from concept development to final installation of the product. At Trybou, they strive to deliver bespoke solutions that are both functional and stylish, and fit within the available budget. Trybou is an expert in both tradition, craftsmanship, comfort and technology. And that results in dream kitchens that last a lifetime.

The kitchens and cupboards are all produced in our own factory in Staden, i.e. entirely made-in-West Flanders. To achieve a durable end result, only the best materials are used. Affordable chic is therefore right up their street.
In 2022, Artuur Coffez & Nicola De Groote founded their architecture & design studio CDG Studio. Based in Kortrijk, the studio designs under the motto playful minimalism.

The focus is on sustainable architecture and purified interiors, with surprising touches in the use of materials and colours.
Eyecatcher at the Graanmarkt
For the KIOSK, Nicola and Artuur wanted Trybou to develop a real eye-catcher: a signature kitchen that highlights all Trybou's qualities.

To finish the presentation, Trybou worked together with a lot of local players: 2tec2 for the floor covering, ATAG for the kitchen appliances, BLANCO for the tap and sink, BORA for the hob, Kronospan for the worktop, Rond.io for the sockets, Unilin for the sheet material and Atelier VIC for the clothing. Photos by Bert Demasure Photography.
Discover the dynamic presentation until the end of August at KIOSK, Graanmarkt Kortrijk.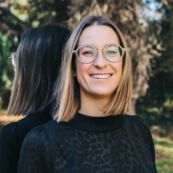 More info? Contact
Lisa Declercq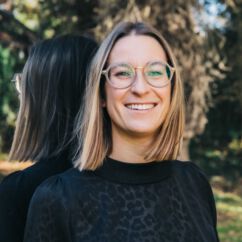 Lisa Declercq
Lisa is responsible for the offline and online visibility and communication of Designregio Kortrijk. She is always looking for the next big thing in young design talent and builds up the creative community of the organisation.