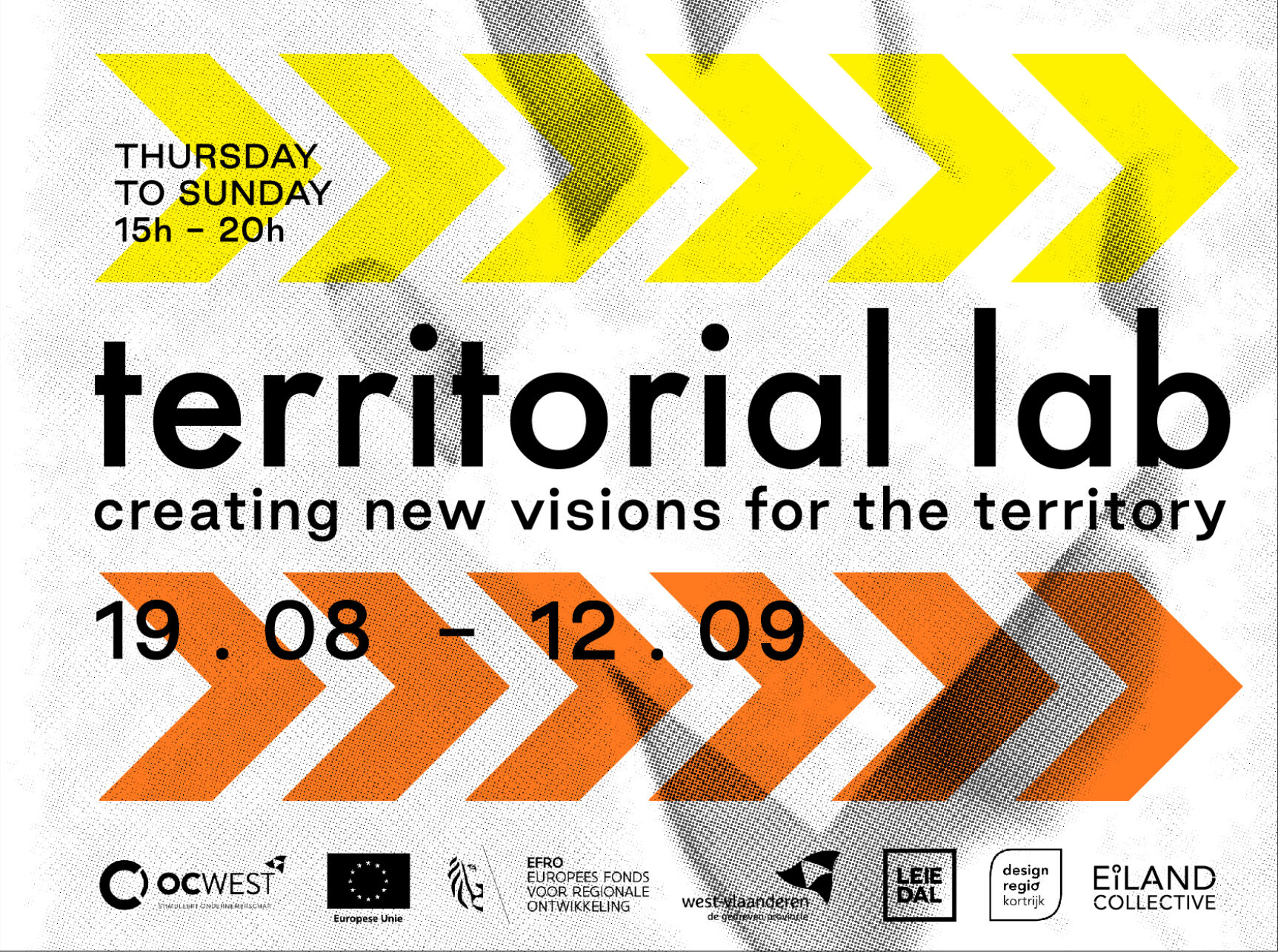 The Territorial Lab
The Designers in Residence Kortrijk 2020 - Emilie Froelich, Jadd Hallaj and Elena Falomo - are back in Kortrijk! From August 19 to September 12, 2021, they are organizing 'The Territorial Lab' in Broeltoren Zuid.
'The Territorial Lab' is a month-long experiment in a vacant space focussed on the territory of Kortrijk. Through collaborations with local initiatives and participation from the public and local entrepreneurs, we are exploring different practices which reflect the complex and multilayered visions on the region.

From city centers to the countryside, our world is constantly changing. Different factors are transforming the way we inhabit our environments: the pandemic, the economy, the climate, .. New challenges require new answers, but most importantly, new approaches.

We'll use future thinking and creativity to make city centers business-friendly and attractive, join us on our journey!

territorial-lab.com
Broeltoren Zuid
Open to the public from Thursday to Sunday, between 3 pm and 8 pm.

Part of the KI:SS project Intercommunale Leiedal
16.08 URBAN FARMING
Toekomstverkenning over de mogelijkheden voor stadslandbouw in Kortrijk centrum.
In samenwerking met Stadsboerderij Kortrijk
30.08 HERITAGE COORDINATORS
Workshop om fietsroutes te ontwerpen voor de Open Monumentendag.

In samenwerking met verschillende gemeenten.
31.08 LADDER MICRO EXPEDITIE
Samen met Wildebras werd een Ladder-Micro-Expeditie voor kinderen opgezet, om de stad te bekijken vanuit een compleet andere ooghoek. Fun verzekerd!
03.09.2021 - 21:00 BIG RIVER MAN
05.09.2021 - 14:00 AUDIOGIDS
Territorial Lab, LZSB en OperatieKwartier nodigen je zondag 5 september uit voor een interactieve rondleiding naar naar onverwachte plekken dichtbij, waar je individueel of collectief van muziek kunt genieten.