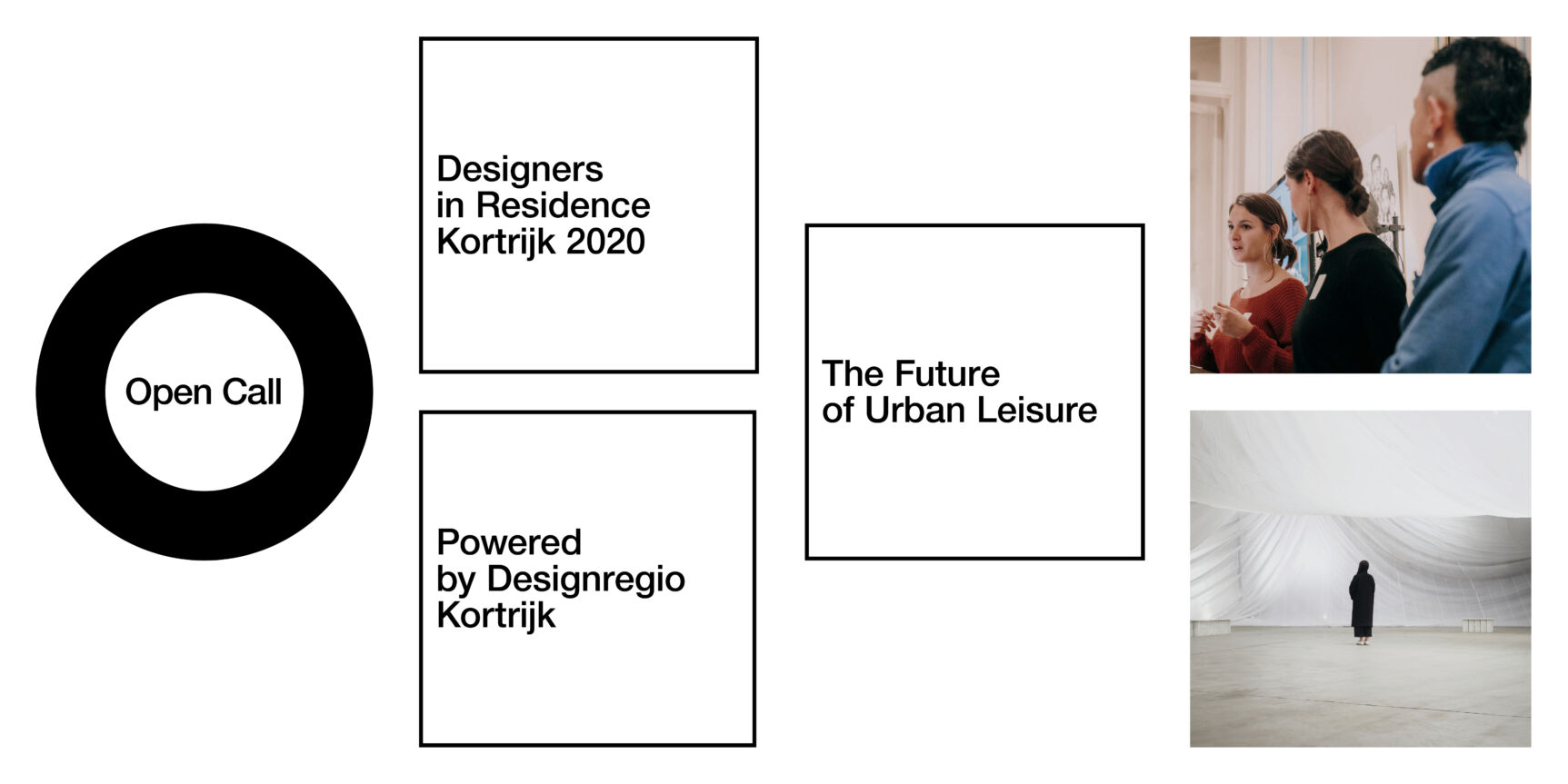 Open Call Designers in Residence Kortrijk 2020
In challenging times, we need inspiration for the future.

Designregio Kortrijk is looking for 3 highly motivated and recently graduated designers or creative makers to participate in a regional residency programme in Kortrijk, Belgium.
The Designers in Residence Kortrijk programme is a 3-month full-time work residency from October 2020 to January 2021.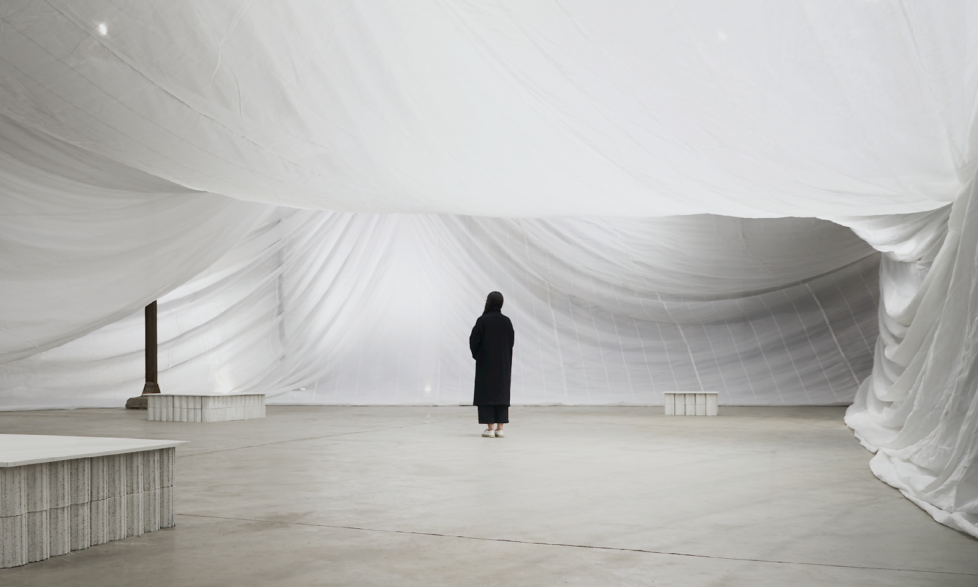 Designregio Kortrijk voorziet voor de geselecteerde Designers in Residence Kortrijk:
accommodatie
maandelijkse vergoeding (400 €/maand)
gebruik van Budalab Open Makerspace
experts in verschillende domeinen en ondersteuning van Designregio Kortrijk
eenmalige reiskosten
Het thema van dit jaar is: The future of urban leisure

De stedelijke ervaring in het algemeen en de stedelijke vrijetijdsbesteding in het bijzonder veranderen snel. Steden wereldwijd investeren fors in de aantrekkelijkheid van de binnenstad. Autovrije voetgangerszones, festiviteiten, artistieke interventies, winkelbeleving,... kortom de urban leisure, zijn recepten die wereldwijd worden toegepast. Meer en meer zijn we getuige van een uniformisering van het stedelijk leven op wereldschaal. High street in Londen, New York of Sydney vindt zijn oorsprong in dezelfde conceptuele kaders (en wordt vaak door dezelfde kantoren ontworpen). Ook de stad Kortrijk volgt deze weg al jaren. De hoofdstraat werd heraangelegd, er werd een winkelcentrum gerealiseerd, voetgangers en fietsers krijgen meer ruimte, de jaarlijkse kermissen en festiviteiten trekken steeds meer mensen aan.

Maar als de bezoekers en het winkelend publiek eenmaal weg zijn, wordt die bruisende plek waar mensen vroeger woonden, werkten of elkaar ontmoetten, leeg. De stad, die geen behoefte meer heeft aan dichtheid en nabijheid, is in enkele decennia opgelost in het landschap en laat de stad achter als een plek voor consumptie. Meer recentelijk is ook deze consumptie beginnen te vervagen. Op zoek naar steeds nieuwe ervaringen keert de consument zich af van de 'oude' binnenstad, waardoor de leegstand van commercieel vastgoed enorm toeneemt.

Het is duidelijk geworden dat het idee van een steeds verdergaande groei overbodig is. Steden moeten hun strategieën voor stedelijke vrijetijdsbesteding heroverwegen om de leegstand in hun centra op te vangen. Maar wat moet er gebeuren? Hoe kunnen we de leegstaande winkels herontwikkelen? En naar wat? Kunnen we strategieën implementeren die de stad niet langer alleen als een plaats van consumptie beschouwen, maar een leef- en werkomgeving genereren? Wat zijn de voorwaarden om dat te doen? Hoe zorgen we voor aantrekkelijke condities voor de stedelingen? Kunnen verlaten winkels hierin een sleutelrol spelen? En wat is de toekomst van de stedelijke recreatie?

Deze editie van de Designers in Residence Kortrijk behandelt een breed onderwerp en nodigt uit tot reflectie over de toekomstige stedelijke conditie. Tegelijkertijd zoeken we naar kleinschalige interventies, prototypes en experimenten. Om dit te ondersteunen zorgen we voor een living lab condition in bestaande maar leegstaande gebouwen en winkels in het centrum van de stad.


CONTEXT

Designregio Kortrijk is je gastheer. Wij organiseren projecten, inspireren met good practices en verbinden bedrijven, ontwerpers, onderwijs en overheid.
Designers in Residence Kortrijk is een initiatief van Designregio Kortrijk, platform voor creativiteit, innovatie en ondernemerschap voor de regio Kortrijk in België. Een regio die deel uitmaakt van het UNESCO Creative Cities Network (UCCN) dat het design thinking ademt, zichtbaar door haar designopleidingen, creatieve maakindustrie, internationale evenementen en inspirerende publieke ruimte.

We zijn een samenwerkingsverband van 5 regionale organisaties, waarmee je nauw samenwerkt. Zo komt je als ontwerper in contact met de lokale gemeenschap (stad Kortrijk), lokale producenten en maakindustrie (Voka West-Flanders & Interieur Foundation), stedenbouwkundigen en ontwikkelaars (Leiedal) en innovatief onderwijs (Howest).

Tegelijkertijd is het Buda-eiland het middelpunt voor een boeiende gemeenschap van creatieve individuen, bedrijven, culturele organisaties, creatief onderwijs en eindgebruikers. Het doel is om aansluiting te vinden bij de lokale maakindustrie, grotendeels ingebed in de regio en de lokale producenten op een eigentijdse manier.

De Budafabriek, Budalab Open Makerspace & BK6 zijn de inspirerende locaties in Kortrijk (België) waar je gaat creëren, werken en wonen.
De regio Kortrijk (België) is een sterke speler in de economisch bloeiende grootste Europese interregionale Eurometropolis.
Hogeschool HOWEST & hun Industrial Design Center is een open kenniscentrum en een communicatieplatform tussen de industrie en de onderwijs-, onderzoeks- en ontwikkelingsprogramma's van de Howest en de Universiteit Gent in Kortrijk. Digital Arts & Entertainment is onder meer één van hun state of the art opleidingen. Daarnaast is er Digital Design & Development, onderdeel van de Koninklijke Academie voor Schone Kunsten (KASK) en het Koninklijk Conservatorium, dat zich richt op het snijvlak van ontwerp, ontwikkeling en onderzoek.
De compactheid van deze regio is zowel een voordeel als een uitdaging.

Designers in Residence Kortrijk wordt georganiseerd sinds 2014. Elk jaar wordt er een boek gemaakt met hun realisaties. Bekijk alle gerealiseerde boeken HIER. Naast een boek, worden de creatieve realisaties ook telkens in de schijnwerkpers gezet met een videoreportage. Bekijk de video's van vorige jaren HIER.

Video Designers in Residence Kortrijk 2019:

SELECTIECRITERIA
Het profiel van de ontwerpers moet aan de volgende criteria voldoen:
1. recentelijk afgestudeerd (minimumniveau: master of gelijkwaardig door ervaring)
2. teamspeler
3. manuele vaardigheden (conceptueel, handig, productie, fabricage)
4. een internationale visie

​Bekijk onze algemene voorwaarden

Stel je nu kandidaat!
Ben jij een van de ontwerpers die we zoeken?
Reageer hier voor vrijdag 4 september 2020:
!!! Completed forms must be submitted to Designregion Kortrijk before Friday 4 September 2020, 9:00 a.m. CET. Applications received after this deadline will not be accepted.