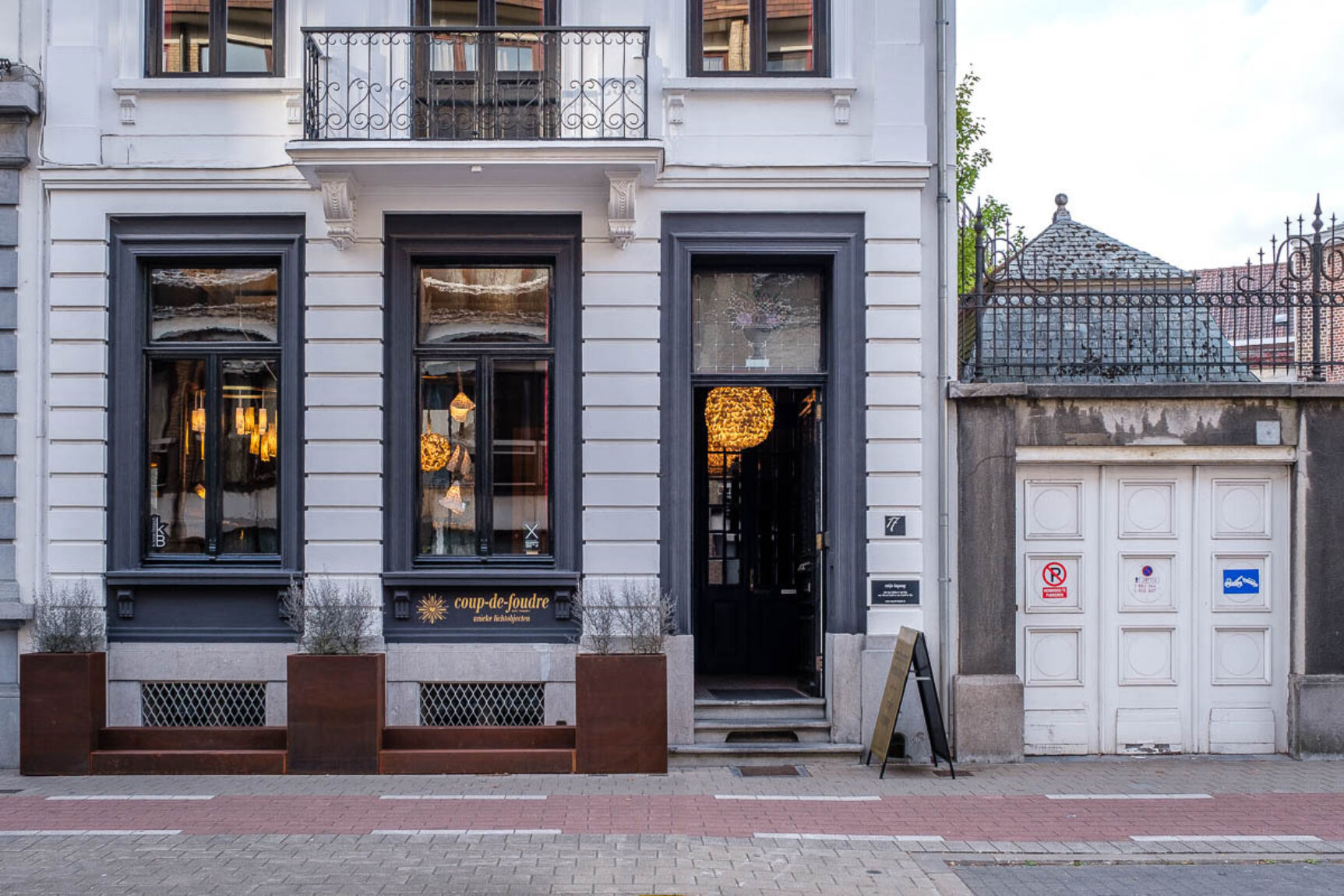 New facade provides "coup-de-foudre"
The seventh completed project within DESIGN IN SHOPS.
Goedel Vermandere and Jan Arickx are the creative minds behind Coup-de-Foudre. An own brand, for which they design and manufacture their unique lighting installations out of porcelain in a traditional and labour-intensive way. Their business is located in a stately mansion in Gentstraat, which you pass by on entering Kortrijk. Goedel and Jan found that the premises were not noticed enough by passers-by. In order to find an answer to this, they were linked to designer Quentin Glorieux from volt_atelier from Lille. To focus attention on the façade, Quentin added a number of elements. The windows that serve as display cases and the entrance to their premises were literally painted. Quentin also placed planters and steps in corten steel in front of the showroom. In this way, passers-by can take an unabashed look through the high windows into the warm interior of the showroom where the various fittings are displayed.
Wondering what a designer can do for your business? Contact the DESIGN IN SHOPS project manager without any obligation Sébastien Hylebos.


The DESIGN IN SHOPS project is a concrete result of the membership of the city and region of Kortrijk in the UNESCO Creative Cities Network. This project encourages cooperation between traders in city centres and professional designers. The project is implemented by Designregio Kortrijk and financed by the city of Kortrijk and Interreg Flanders-Wallonia-France. Forty Kortrijk traders or hospitality businesses will be supported financially and encouraged to call on the services of a designer. After being selected by a jury, the shopkeeper will be introduced to three international designers. More than twenty businesses have already been linked to a designer and are carrying out the necessary work.

Photo by Kattoo.