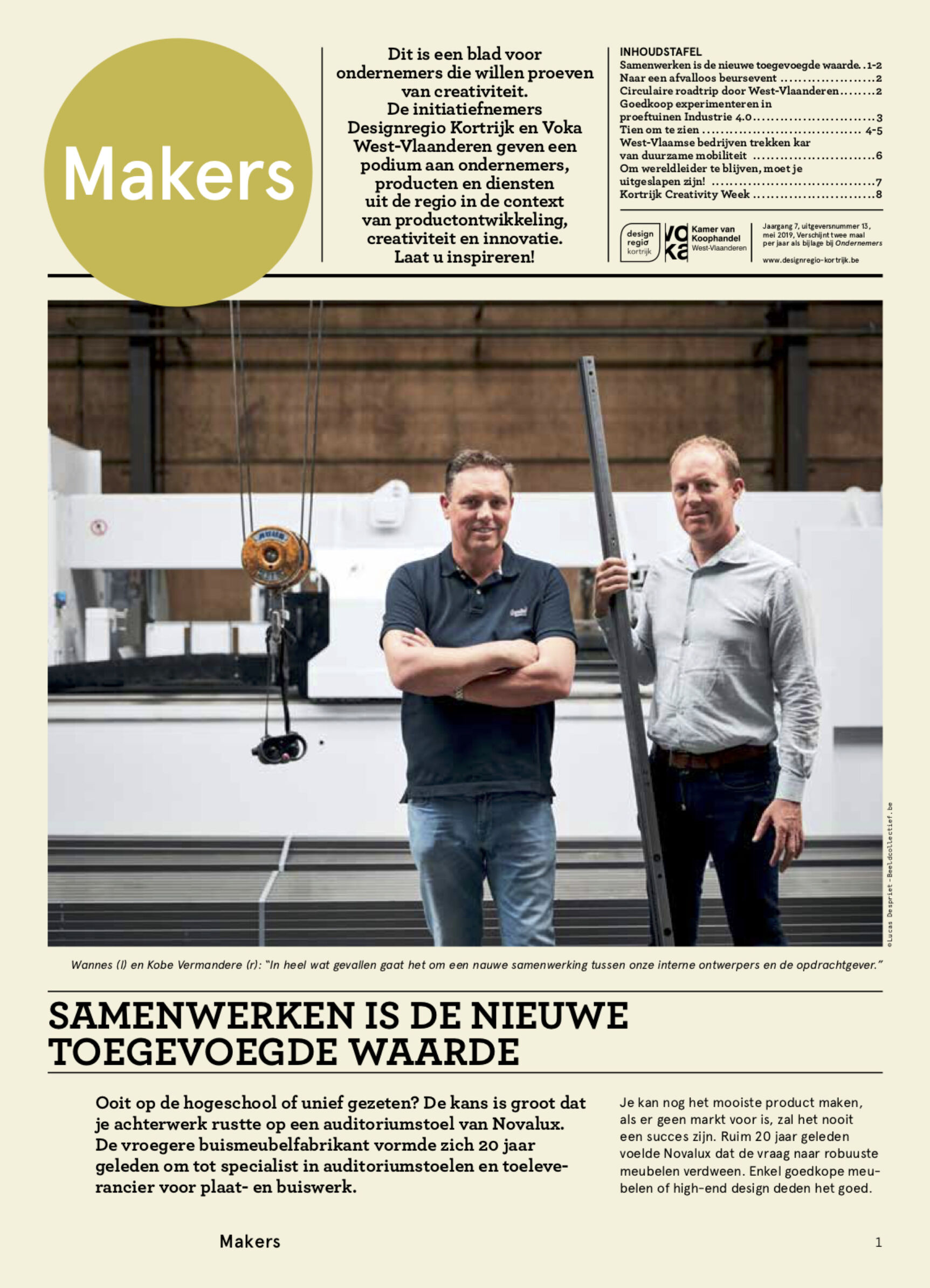 Makers n°13
Makers is een blad voor ondernemers die willen proeven van creativiteit. De initiatiefnemers Designregio Kortrijk en Voka West-Vlaanderen geven een podium aan ondernemers, producten en diensten uit de regio in de context van productontwikkeling, creativiteit en innovatie. Laat je inspireren!
Ooit op de hogeschool of unief gezeten? De kans is groot dat je achterwerk rustte op een auditoriumstoel van Novalux. De vroegere buismeubelfabrikant vormde zich 20 jaar geleden om tot specialist in auditoriumstoelen en toeleverancier voor plaat- en buiswerk en wij gingen in gesprek met Wannes en Kobe Vermandere.

We zoomen in op proeftuinen industrie 4.0. Vlaanderen investeert 4 miljoen euro in een tweede reeks van tien proeftuinen waar maakbedrijven laagdrempelig kunnen experimenteren rond Industrie 4.0. Drie van deze proeftuinen zijn gevestigd in Brugge en Kortrijk.

Naar goede gewoonte kan je opnieuw 10 gloednieuwe innovatieve producten ontdekken.
Nu files in Vlaanderen zowat elke dag aan onze kostbare tijd knabbelen en we de klimaatopwarming kunnen afmeten aan opeenvolgende nieuwe temperatuurrecords, dringen maatregelen voor duurzame mobiliteit zich nog meer op. Ook West-Vlaamse actoren nemen de pioniersrol op zich. We ontdekken Addax Motors, Westlease en Office on Wheels.

Hoe meer kunstlicht onze slaaptijd verkort, hoe belangrijker de kwaliteit van die slaap wordt. In het nieuw internationaal innovatiecentrum bij de hoofdzetel in Waregem is BekaertDeslee dan ook continu bezig met het zoeken naar nieuwe toepassingen voor geweven en gebreide matrasstoffen en hoezen. "Het moeten niet altijd gróte vernieuwingen zijn, maar een innovatie moet wel voor meerwaarde zorgen", vertelt executive vice-president Hans Dewaele.

En als laatste stippen we graag de Kortrijk Creativity Week aan in je agenda! Van 23 tot 27 oktober 2019, Kortrijk Weide.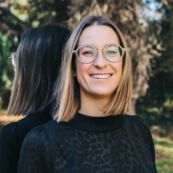 More info? Contact
Lisa Declercq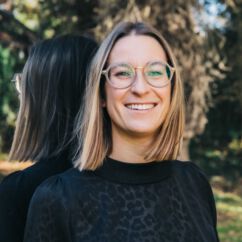 Lisa Declercq
Lisa is responsible for the offline and online visibility and communication of Designregio Kortrijk. She is always looking for the next big thing in young design talent and builds up the creative community of the organisation.