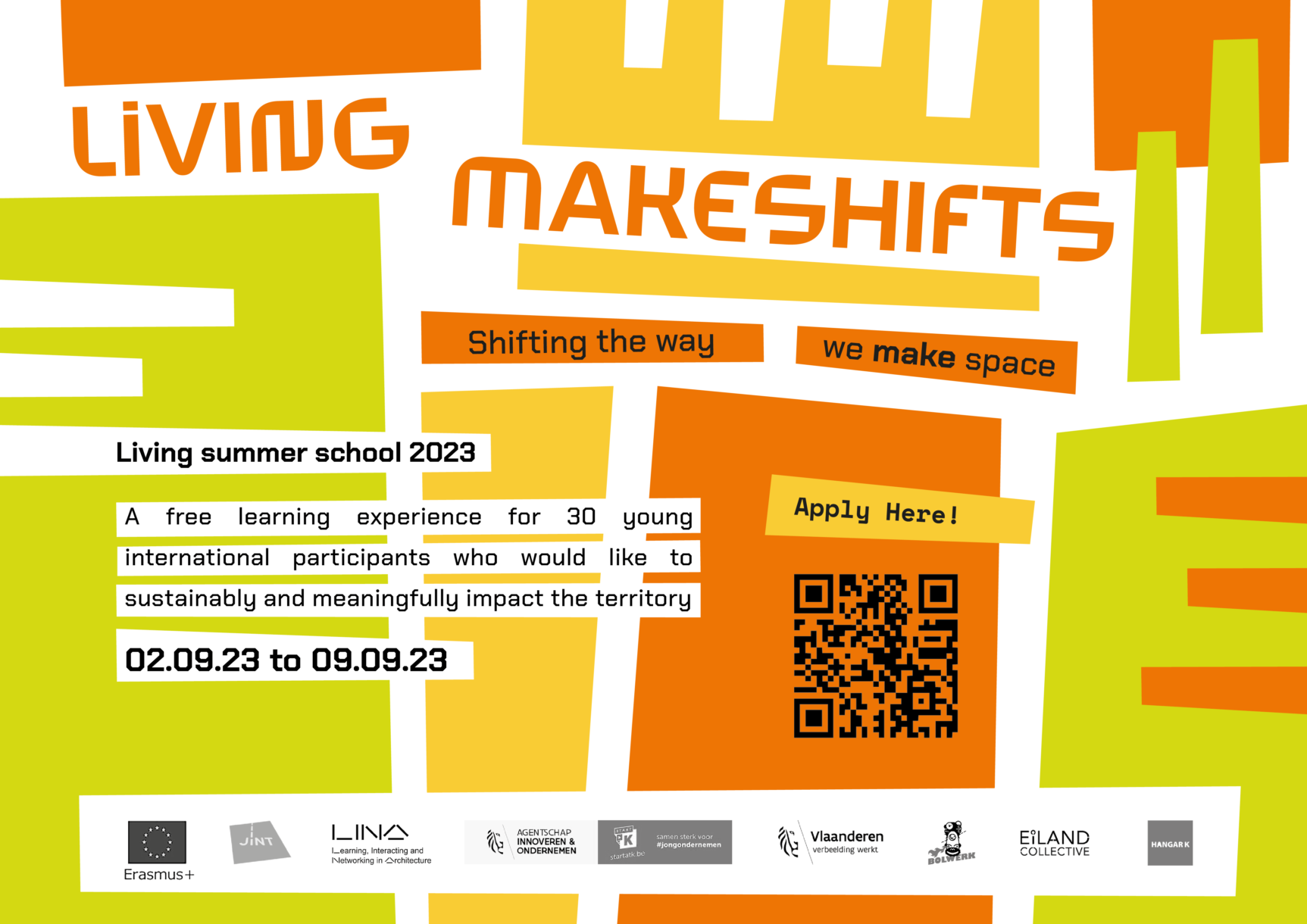 Living Summer School: a catalyst for regional innovation driven by young people
Every year, Living School Summer creates an informal learning experience for a diverse group of European and local young people exploring different aspects of spatial innovation. It is an initiative of Bolwerk, Start at K and Eiland Collective. The third edition, which will take place in September 2023, will explore emerging building processes.
Are you under 30 years old, a European resident and would you like to develop and implement sustainable initiatives in the urban and rural areas of South-West Flanders from 2 to 9 September 2023 for free and in collaboration with other students?
About Living Summer School
The Living Summer School is a free and Erasmus-certified annual informal education programme that brings together European and local young people to lead multidisciplinary experiments with the aim of nurturing a territorial mindset as a catalyst for innovation.

The programme, a member of the New European Bauhaus' Transformation of Places of Learning and the LINA Architectural Platform & Community, uses collaborative and experiential learning methods to foster a sense of shared responsibility. Each year, it investigates multi-faceted social and climate challenges faced by local partners, including NGOs, policymakers and private companies. Participants are then encouraged to work in teams to address these geographically specific challenges in collaboration with those local communities and partners, upon which the results of the co-creation process are shared with local decision-makers and policymakers.
Living Summer School believes that there is an urgent need to combine creative, entrepreneurial and design thinking approaches to address the complex social and geographical crises our territories are witnessing. Therefore, they provide accessible para-academic opportunities for all young people by creating a space for discussion and confrontation on societal issues.
2023 THEME: LIVING MAKESHIFTS
European zero net artificialization policy
In view of the looming dangers posed by mass construction, the European Commission for 2050 has declared a "zero net artificialization" policy. This means that new development projects will be restricted to available built-up areas, which is a radical change from the expansionist urbanisation of the last century. So the mission is to change the way we make space by using what is readily available.
A challenge and opportunity: SHIFTING the way we MAKE space
This is no easy task, as the production of space involves many actors from different sectors with different expertise, demands and visions of the future. Over 10 days, they will try to deconstruct entrenched common practices to explore more sustainable, emergent life cycles for our buildings, from design to construction, maintenance and demolition. This will be done through lectures by
inspiring designers and leaders from across Europe, through which they will explore ideas, gain practical experience by occupying different building sites in the area and test methods for constructing, maintaining and deconstructing the spaces around us.
Mentorship, partnership & collaboration
During the programme, young people from different backgrounds learn from each other by experimenting and focusing on social and environmental issues. The issues are offered by local experts through the complex and systemic challenges they face, as partners are selected each year to help them create territorial assignments thanks to their experiences and real-world knowledge. In addition, participants also receive daily lectures from local and international experts on various topics, as well as hands-on workshops to facilitate their creative process.
Are you an expert in art, design, social impact or entrepreneurship? Or a company looking for outside-the-box visions of the future? Then you too can register for LSS.
Learn more about the LSS by listening to co-founder Elena Falomo presenting the project during the acceptance speech for the LINA European Architecture Network (December 2022)

Vragen? Neem contact op met Elena!