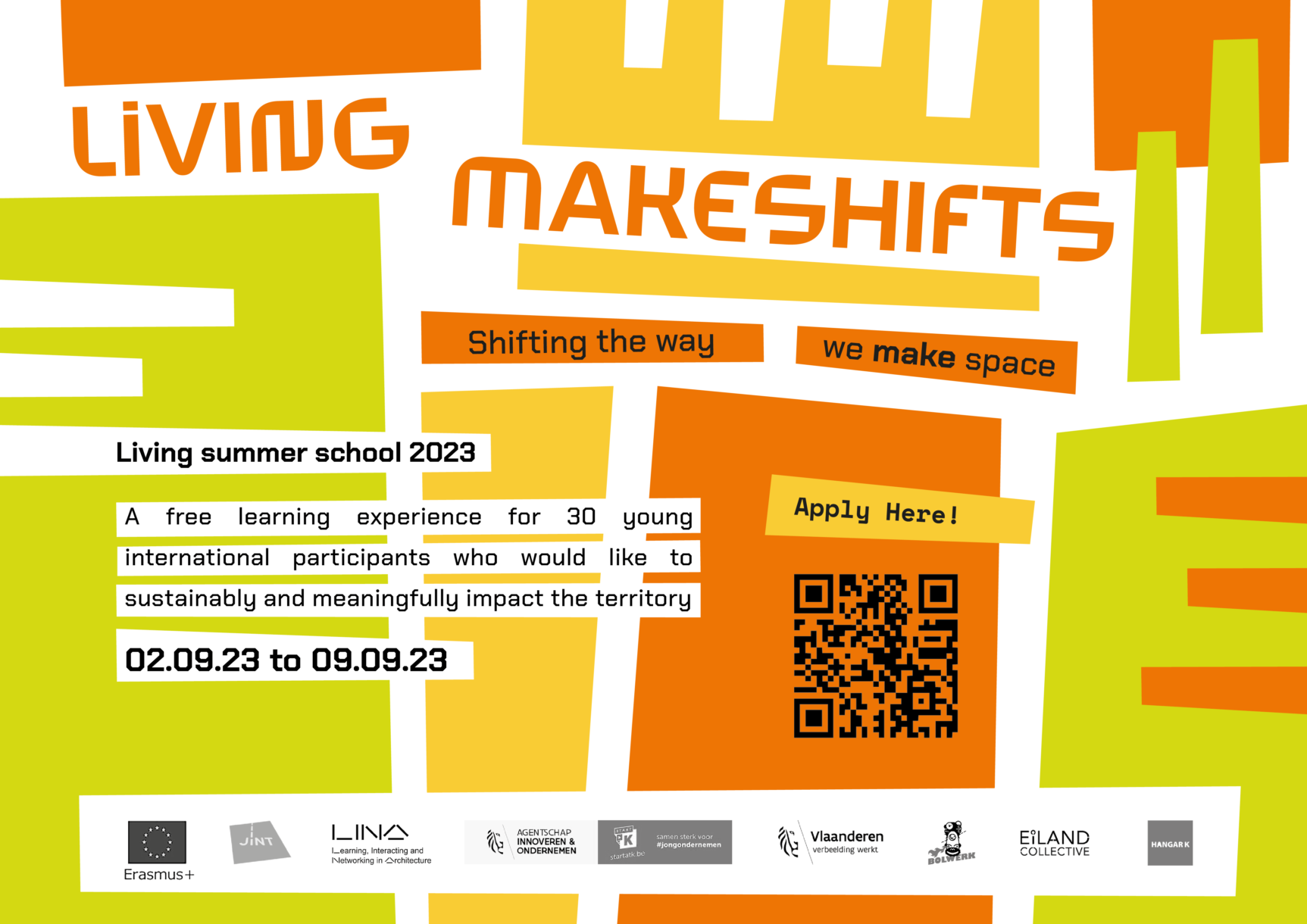 Ben jij onder de 30 jaar, inwoner van Europa en wil je van 2 tot 9 september 2023 gratis en in samenwerking met andere studenten duurzame initiatieven ontwikkelen en implementeren in de stedelijke en landelijke gebieden van Zuid-West-Vlaanderen?
Wat houdt de Summer School in?
De deelnemers krijgen lezingen en bezoeken ter plaatse van inspirerende ontwerpers en leiders vanuit heel Europa. Ze zullen ideeën verkennen en praktijkervaring opdoen met het maken van schaal 1 interventies met lokale partners. Op die manier trachten ze samen nieuwe benaderingen van de productie en constructie van ruimte te ontdekken. Zo bezetten ze verschillende bouwplaatsen in het gebied en testen ze methoden voor het construeren, onderhouden en deconstrueren van de ons omringende ruimten.
Thema 2023: LIVING MAKESHIFTS
Mentorship, partnership & collaboration
Tijdens het programma leren jongeren van verschillende achtergronden van elkaar door te experimenteren en te focussen op sociale en milieuthema's. De vraagstukken worden aangeboden door lokale deskundigen via de complexe en systematische uitdagingen waarmee zij worden geconfronteerd, elk jaar worden namelijk partners geselecteerd om hen te helpen territoriale opdrachten te creëren dankzij hun ervaringen en kennis uit de praktijk. Daarnaast krijgen de deelnemers ook dagelijks lezingen van lokale en internationale experts over verschillende onderwerpen, evenals hands-on workshops om hun creatieve proces te vergemakkelijken.
Ben jij een expert op het gebied van kunst, design, sociale impact of ondernemerschap? Of een bedrijf op zoek naar outside-the-box visies op de toekomst? Ook dan kan je je inschrijven voor LSS.
Leer meer over de LSS door te luisteren naar medeoprichter Elena Falomo die het project presenteert tijdens de acceptatiespeech voor het LINA European Architecture Network (december 2022)

Vragen? Neem contact op met Elena!