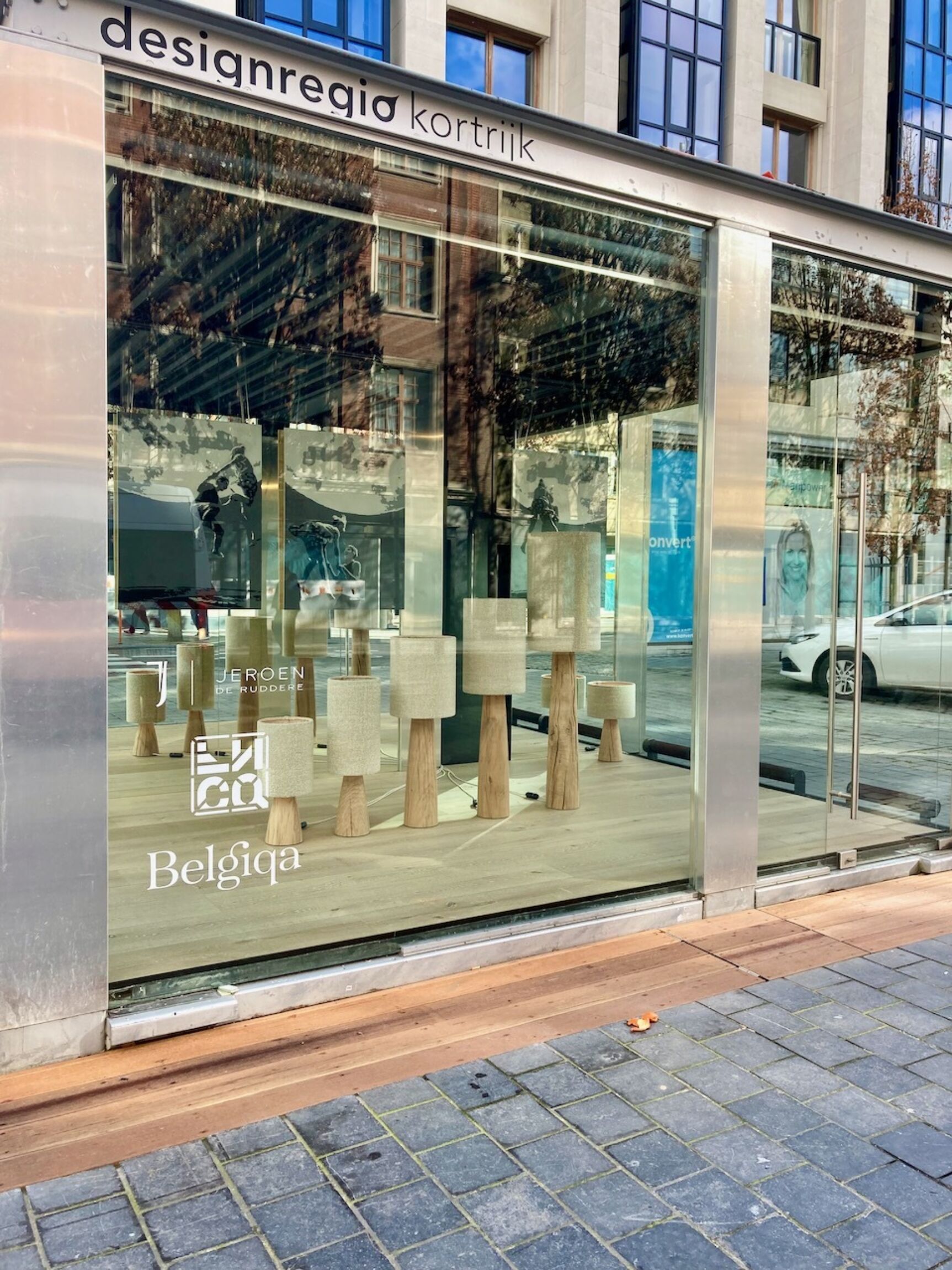 Creative family De Ruddere and Belgiqa Wooden Floors set to work on the Kiosk
Jeroen De Ruddere is not only a representative at Belgiqa Wooden Floors. He also makes wooden light fittings. Not surprising, since he comes from a creative family. Together with his father Henk, himself a paint artist, and Belgiqa, he will be working on the Kiosk on the Grote Markt from 11 to 21 February.
Jeroen De Ruddere has a thing for wood.
In everyday life, he works as a representative at Belgiqa Wooden Floors,
a manufacturer of architectural wooden design floors in Menin.

But even after working hours, his passion for wood continues.
Under his own name, he recently launched a line of handmade wooden designer lamps.
The design of this FL4 Bengra Edition - The Family consists of a full solid oak lamp base in a curved cone shape. The custom-made lampshades, contain a lot of texture due to the unique fabric used for this. Yet they are very soft and refer to the feel of clay and earthy tones.
The series, which he himself calls The Family, consists of 7 models, all in different proportions and sizes.

The lamps I create are meant to be real eye-catchers in an interior. In my approach, lamps should not only be beautiful when they are lit, but also when they are not. They should be beautiful objects to look at at all times,' says Jeroen.

When he told his employer Belgiqa that he wanted to present his work to the outside world, they suggested that he fill the Kiosk on the Grote Markt.

CEO Gregory Minne, as a native of Kortrijk, has long been convinced of the power of this spot. And so, starting Friday 11 February, Jeroen will be displaying his creations for ten days, on a design floor with open knots and dry cracks.
The lightly planed oak planks were treated with reaction stain, a process of nine finishing layers to achieve a sublime natural colour.

For the finishing touch, Jeroen counted on the subtle interventions of ENCQ, the pseudonym for graffiti artist, painter and spray paint artist Henk De Ruddere, who, not coincidentally, is Jeroen's dad. ENCQ stands for a very special style that is 'resolutely committed to and on the side of Man'.


This unique collaboration between creative souls, designers and producers can be viewed in the Kiosk from 11 to 21 February 2022.