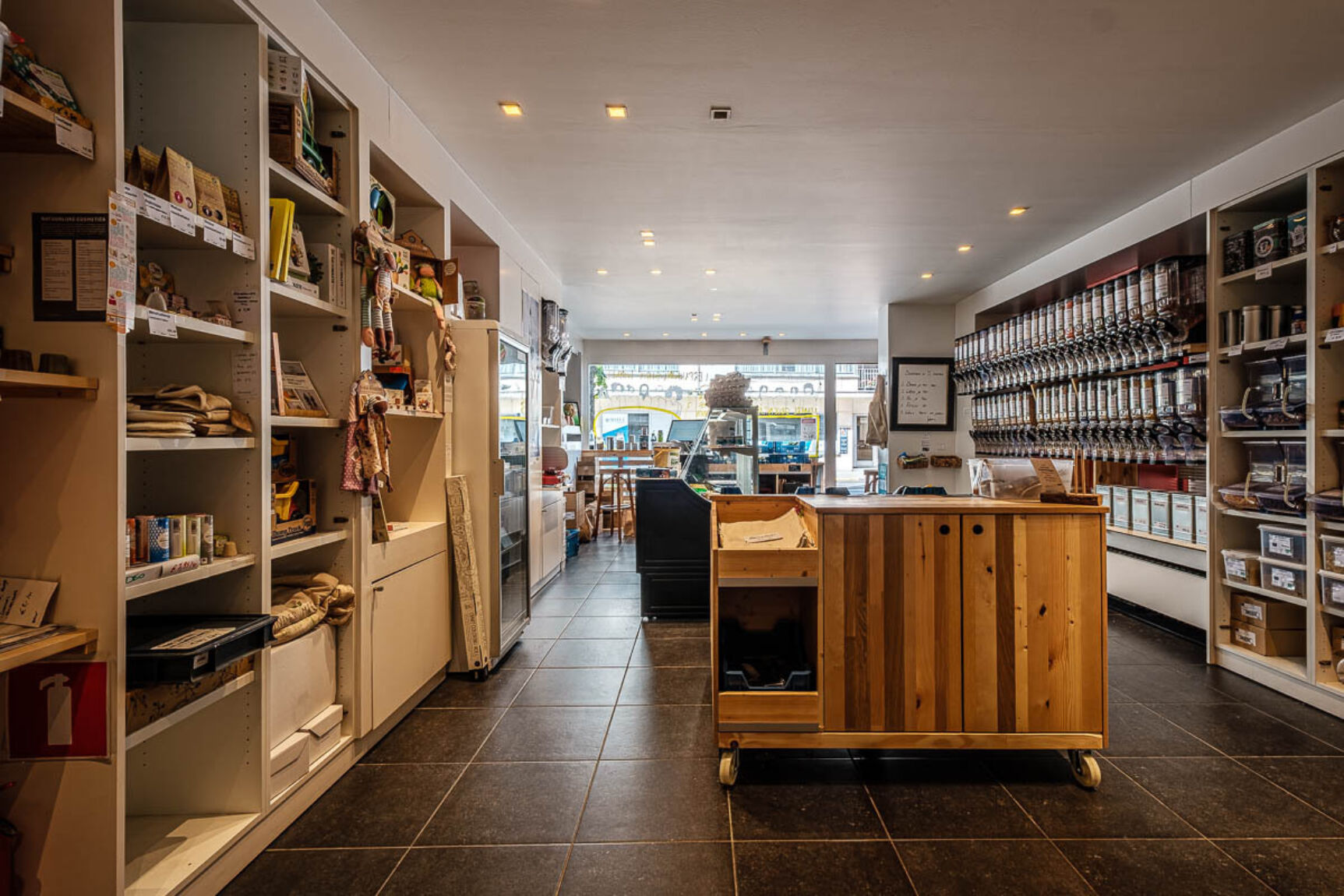 New furniture for packaging-free shop Without More
The third realised project within DESIGN IN SHOPS.
The packaging-free shop Zonder Meertook advantage of the DESIGN IN SHOPS project to create two new pieces of furniture in collaboration with a designer. With DESIGN IN SHOPS, the city of Kortrijk and Designregio Kortrijk want to give colour to Kortrijk as a city of innovation and design. In the project, merchants are encouraged to renovate or rearrange their shop, improve the shop window, improve visibility or carry out other creative interventions together with a designer. Each participating retailer receives a grant as financial support from the City of Kortrijk and Interreg. After hairdressers TON SUR TON and florist Descaplant is this the third finished participant in DESIGN IN SHOPS.

Zonder Meer is a Bio/Eco/Fair shop in Kortrijk. The owner Johan was annoyed by the amount of packaging material he took home every time he went shopping. This stimulated his drive to open the shop Zonder Meer. Everyone with their own pots, boxes and bags is welcome in the shop.

In the shop, there was a need for a piece of furniture to display the fruit and vegetable containers in a convenient, but also fun way. To achieve this, Zonder Meer was linked to the designers of Holy-wood from Bergen. Holy-wood creates unique furniture and accessories from locally reclaimed wood according to an ethical and solidary approach. A perfect match! Holy-wood started working with wood from old wardrobes for the production of 2 pieces of furniture. That way, this also became a circular story.

This project is a concrete result of the fact that the city of Kortrijk is a member of the Unesco Creative Cities Network thanks to our close ties with the cities of Detroit and Montréal. Forty Kortrijk traders or hospitality businesses will be supported financially and encouraged to call on the services of a designer. After a selection by a jury, the shopkeeper is introduced to three international designers. Twenty businesses have already been linked to a designer and are carrying out the necessary work.
Beeld door Kattoo.