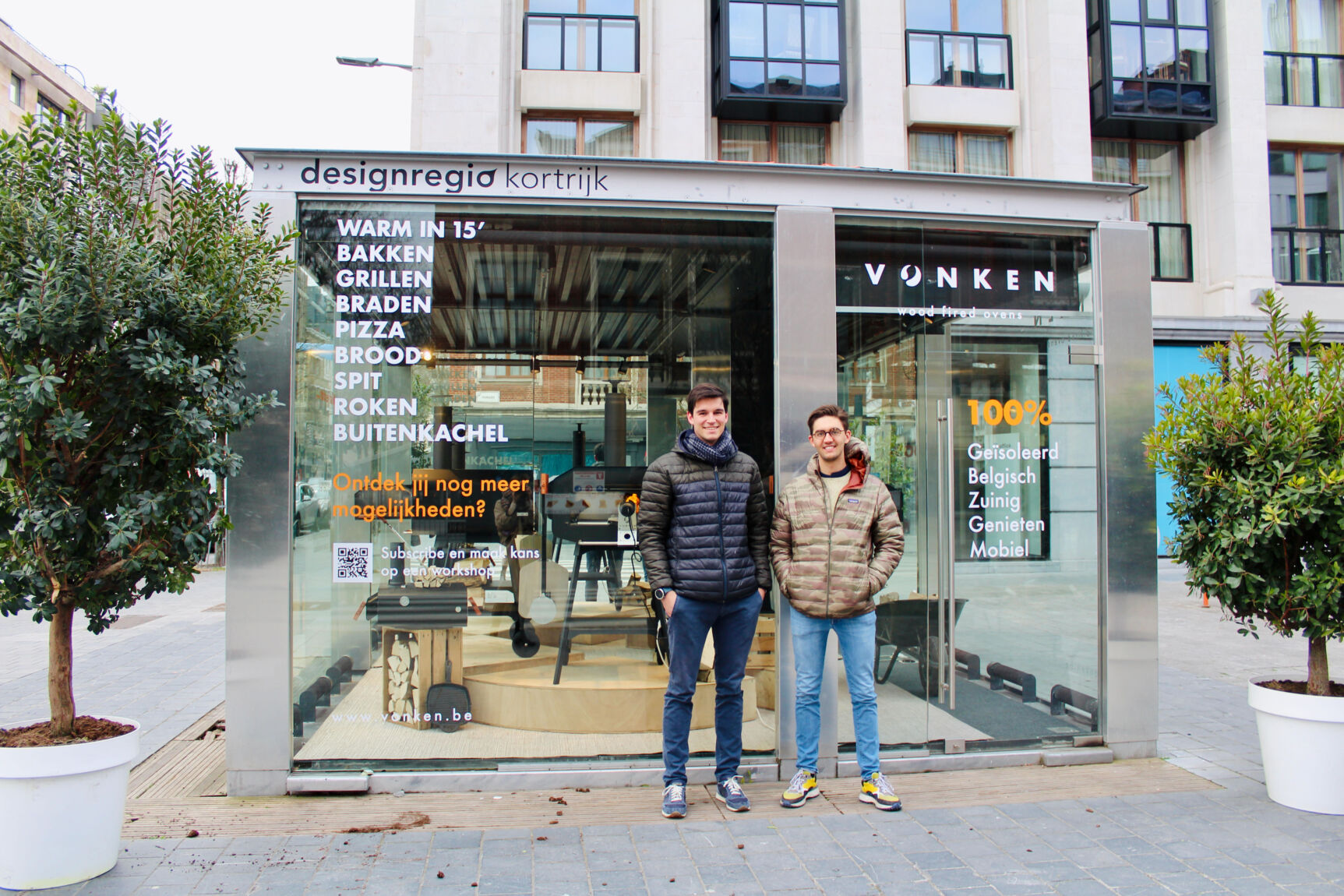 Ready for spring with Vonken
In April you can discover Vonken's mobile wood-burning ovens in the KIOSK.
With the arrival of spring and hopefully good weather, many people are eager to light up their barbecue. And that is where Sparks comes into the picture.
Sparks is the result of a hobby that got out of hand among childhood friends Adrien Billiet and Sebastian Laga. After numerous prototypes, endless experimentation and cooking sessions across the country, the Sparks Original was born. An elegant mobile wood-burning oven that serves as a boundless outdoor kitchen and cosy companion. With a Vonken oven, you can prepare not only the perfect piece of meat, but also pizza, oven dishes or smoked fish, all in one mobile unit with modular accessories. In the meantime, a smaller version is also available, which has been christened Sparks Mini.


#MadeinBelgium
The two Kortrijk natives Adrien Billiet and Sebastien Laga started Vonken in the middle of a coronary crisis, May 2020, but had been developing prototypes for several years. Today, you can already buy their product on their own webshop, but it can also be found at shops such as Dhondt Leef Mooi, Kookboetiek Dupont and a few other distribution points in Belgium and the Netherlands.
Vonken is currently the only Belgian wood oven manufacturer on the market and keeps production almost entirely in its own country. In this way, they want to guarantee the superior quality of their product and also distinguish themselves from other barbecue builders. Adrien and Sebastien also want to do business responsibly. "Our unique technology allows for extremely economical combustion, unique in its kind and already much more economical than other outdoor kitchens, without compromising on warmth and cosiness," say the young starters. "We owe this to long studies on correct airflow and oxygen supply, technical design and excellent insulation. We also take our social responsibility seriously. For each oven, we also plant a tree locally in West Flanders, which until further notice is still the poorest forest region in Europe."
In the KIOSK this month, 3 of their wood-burning ovens are presented.

You also have a chance to win aworkshopwith Vonken at a unique location with your bubble! For more information: Team Vonken info@vonken.bewww.vonken.be

In the Kiosk in the centre of Kortrijk, a creative presentation of the products or services of a regional company is set up every month. Are you interested in exhibiting your products or services? Get in touch with lisa@designregio-kortrijk.be