BUDA LIBRE Zoom Out
BUDA LIBRE, ons café voor één nacht, gaat eenmalig online!We garanderen een ZOOM sessie zoals je die nog niet gehad hebt, met ook deze keer inspirerende verhalen door mensen van hier en nu, én met een bijzondere wending...Uiteraard gratis, maar vooraf inschrijven op www.budalibre.be.
Programma:
Kortrijk heeft een afspraak met de toekomst, en wil in 2030 Culturele Hoofdstad van Europa zijn. BK6 is het platform van waaruit burgers, kunstenaars, ontwerpers, organisaties, onderwijs en bedrijven samen maatschappelijke uitdagingen aanpakken via kunst en cultuur. Samen met illustratrice Astrid Verplancke vertellen ze je het hele verhaal!
In Digital Silence van Building Conversation spelen de deelnemers met hun eigen aan- en afwezigheid, in hun kamers en op internet. Ze gaan op zoek naar een derde ruimte, een hybride ruimte, die zowel fysiek als virtueel is. 'Waar ben ik als ik zowel in mijn kamer als op het scherm ben? En waar ben jij?' Digital Silence verbindt kamers en mensen in één groot multidimensionaal flatgebouw, zwevend tussen bakstenen en pixels, aanwezig noch afwezig. (Engels)
Ondernemer en student Jotte Mallisse van Whitee vertelt over student-ondernemerschap, duurzaam ondernemen en online/lokaal winkelen voor, tijdens en na de coronacrisis.
Performers Philippine Hoegen, Lilia Mestre, Kristien Van den Brande, Derk Byvank brengen met Hey You! een scène waarmee Althusser de roep van authoriteit illustreert en bediscussieert – de politieagent roept naar het subject – een persoon op straat. Twee performers en twee schrijvers onderzoeken in spel, tekst en gesprek wat 'Hey You!' nu eigenlijk betekent.
Luister naar de getuigenis van NON Moodshop die met een gevelschildering sinds kort kleur geven aan de Grijze Zusterstraat dankzij DESIGN IN SHOPS.
Met live DJ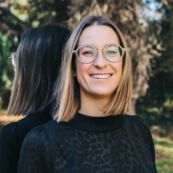 More info? Contact
Lisa Declercq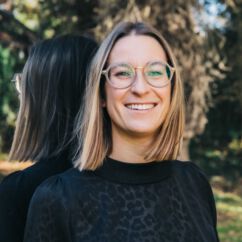 Lisa Declercq
Lisa is responsible for the offline and online visibility and communication of Designregio Kortrijk. She is always looking for the next big thing in young design talent and builds up the creative community of the organisation.