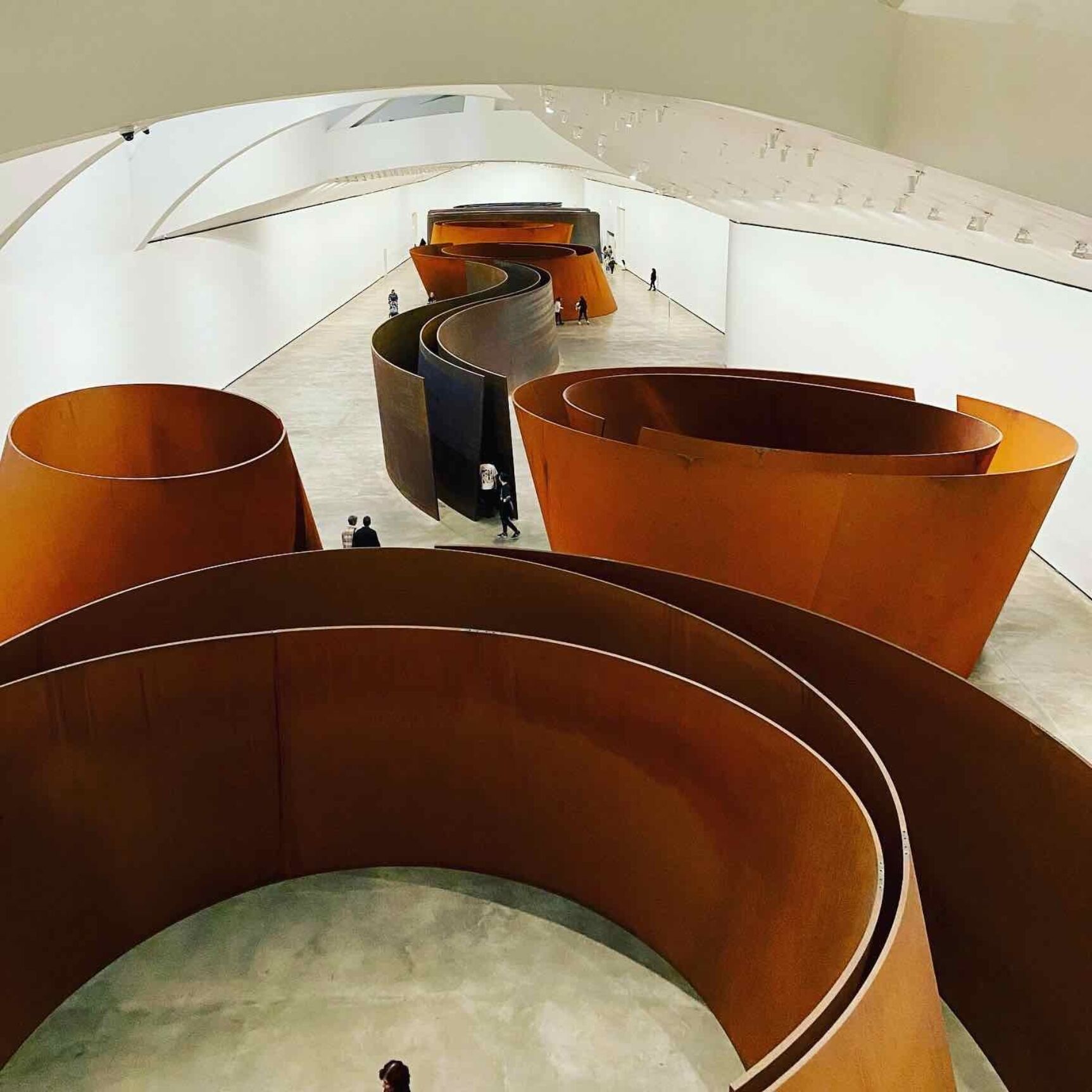 Visit to Bilbao, UNESCO Creative City of Design
Bilbao, a city with a lot of potential, an eye for beauty, enthusiastic inhabitants with a great will to cooperate and a lot of 'rebellious' creative initiatives. We like!
On Tuesday morning 22 November, Stijn and Lisa headed for Bilbao City of Design in northern Spain.

We were there at the invitation of the Bilbao Bizkaia Design Week, which ran from 17 to 27 November with the theme 'eco-systems'. And that was also the reason we were invited there. Collaboration and cross-fertilisation is at the core of our organisation and we brought that story to Bilbao.

On Tuesday evening, we were warmly welcomed by Carolina, co-organiser of Design Week and our guide for the three-day event. She took us to the impressive cultural centre that houses not only an exhibition space, design shop and cinema, but also an impressive public swimming pool and gym. Then we walked to a cosy pintxos bar, the typical tapas of Bilbao, where we met curator of Design Week Iranzu Guijarro of ColaBoraBora and colleague from the UNESCO focal point team Maria Del Blanco. The perfect setting to initiate a collaboration between the two cities.

On Wednesday, we started the day with a visit to the island of Zorrozaurre. A former peninsula - now island - that was once its industrial heart but is now almost completely abandoned. The master plan for redevelopment is on the table, but until that comes into effect, cultural, artistic and creative organisations and educational institutions are occupying the abandoned buildings for temporary use of their workings. A highlight was the visit to the studios of Data Collective. This collective consists of 4 designers who share their studios and knowledge there and also communicate together under Data Collective: GodotStudio, Studio Petit Muller, Tuomas Kuure and Ziriak. Also on the same site was Bilbao's fablab, which is strongly committed to collaborations with international makers.

We were then introduced by Iranzu to her colleagues from ColaBoraBora and how the organisation works around 'collaborative design'. They are in a co-working building where they function as a cooperative with the other organisations and set up initiatives with them as well. Something that is strongly in the Basques' genes. Just look at the largest Basque company: Mondragon Corporation, which is also a cooperative.

We concluded the guided tour at an art centre that offers residencies to artists and designers also active in graphics, illustration or making. Fascinating!

We continued along the waterfront to the world-renowned Guggenheim Museum. With its imposing architecture, gigantic halls filled with the world's greatest artists, this is an absolute must visit.

On Thursday 24 November, we participated in the seminar: What Can We do Together? Stijn explained the workings of Designregio Kortrijk and Lisa explained how, with WONDER Creativity Festival, we bring together different networks and create momentum. Afterwards, we were able to participate with the participants in a workshop on opportunities for eco-systems.

Thank you very much Maria, Carolina and Iranzu for the very warm welcome and we look forward to future collaborations!