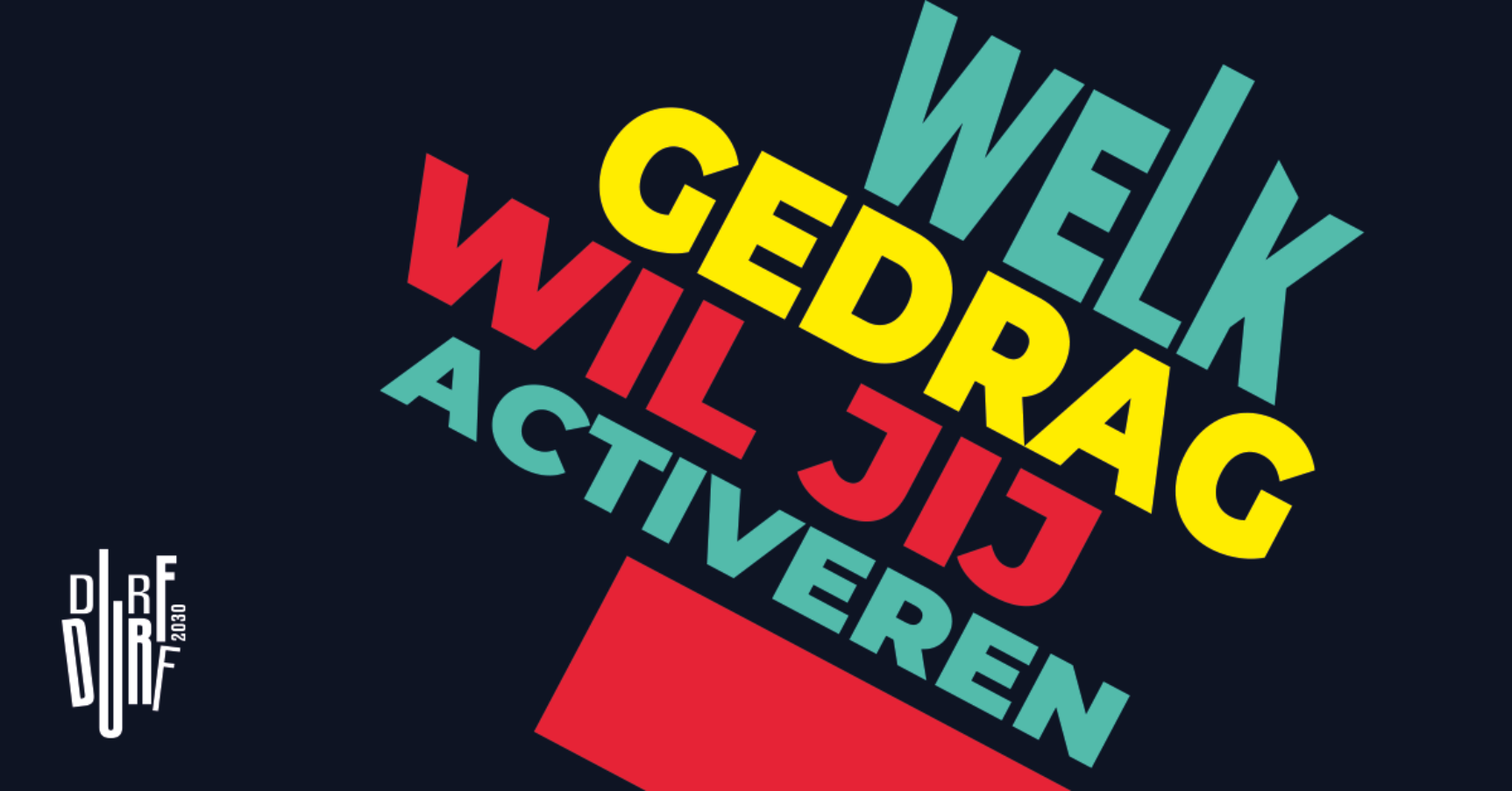 Project call: using public space to activate behaviour
If you want to make an impact, you often have to change behaviour. To do so, we need to go beyond pure information and give people a push to stimulate certain behaviour.
DURF2030 challenges inhabitants, designers, artists, psychologists, etc. to stimulate positive behaviour with small or large interventions in the city or municipality. Do you see too few people laughing in the streets? Can we make our streets greener? Can we jump on our bikes more?
Under the motto "don't get annoyed, but do something about it", anyone can submit an idea to have people test desired behaviour with a little push. Existing examples include transforming the stairs into an interactive piano, markers to the nearest rubbish bins, high-five poles to choose the safest route to school,... Let your creativity bubble!
DURF2030 not only provides communicative support, but also provides 2000€ per project from the DURFFONDS to realise these projects. If you need more budget, we offer the possibility to collect more budget through Growfunding, a social crowdfunding platform. Naturally, you will receive excellent support to make your crowdfunding campaign a success...
Which projects are eligible?
The basic criteria:
Positive change in the life of your neighbourhood, city or municipality
You use art or creativity as a tool to change behaviour.
You search for partners to help realise your project, whether or not together with DURF2030. Together with them, you devise the concept and put together a team to carry out the project.
You involve citizens and passers-by in your intervention as much as possible.
This gives your project an extra added value:
The project can be applied in other contexts, so it can serve as best practice for other places.
Innovative: new or new approach (not an existing operation or project)
Cooperation with partners from other sectors/outside your known world
Who can submit?
Inhabitants, artists, designers, companies, associations or organisations who can develop and realise a project themselves. DURF2030 can provide communicative support and help find partners, but you and your partners are responsible for the actual realisation of the project.
How do I submit a project?
Step 1: You have an idea, but it is still vague or you are alone? Register for a DURF Coffee or Apéro and present your idea to a few people from the DURF network. You will receive immediate feedback which you can use to refine your idea.
Step 2: Your project is completely worked out (timing, budget, approach)? Have you found the right partners and set up the right cooperation? Submit your project until 31 July 2021 using this form. A jury will assess the project's eligibility on the basis of your proposal.
Step 3: You will hear whether your project has been selected at the latest by 24 August 2021. We are aiming for about ten projects.
Step 4: Would you like to raise more budget with your project through a Growfunding campaign? On 7 and 14 September, 2 workshops will be held to help you set up your campaign. This is completely free of charge, but mandatory if you're going for Growfunding.
More information or questions?
Do not hesitate to call or email them for more information on this project call. DURF2030 will be happy to examine whether your idea can be developed further.