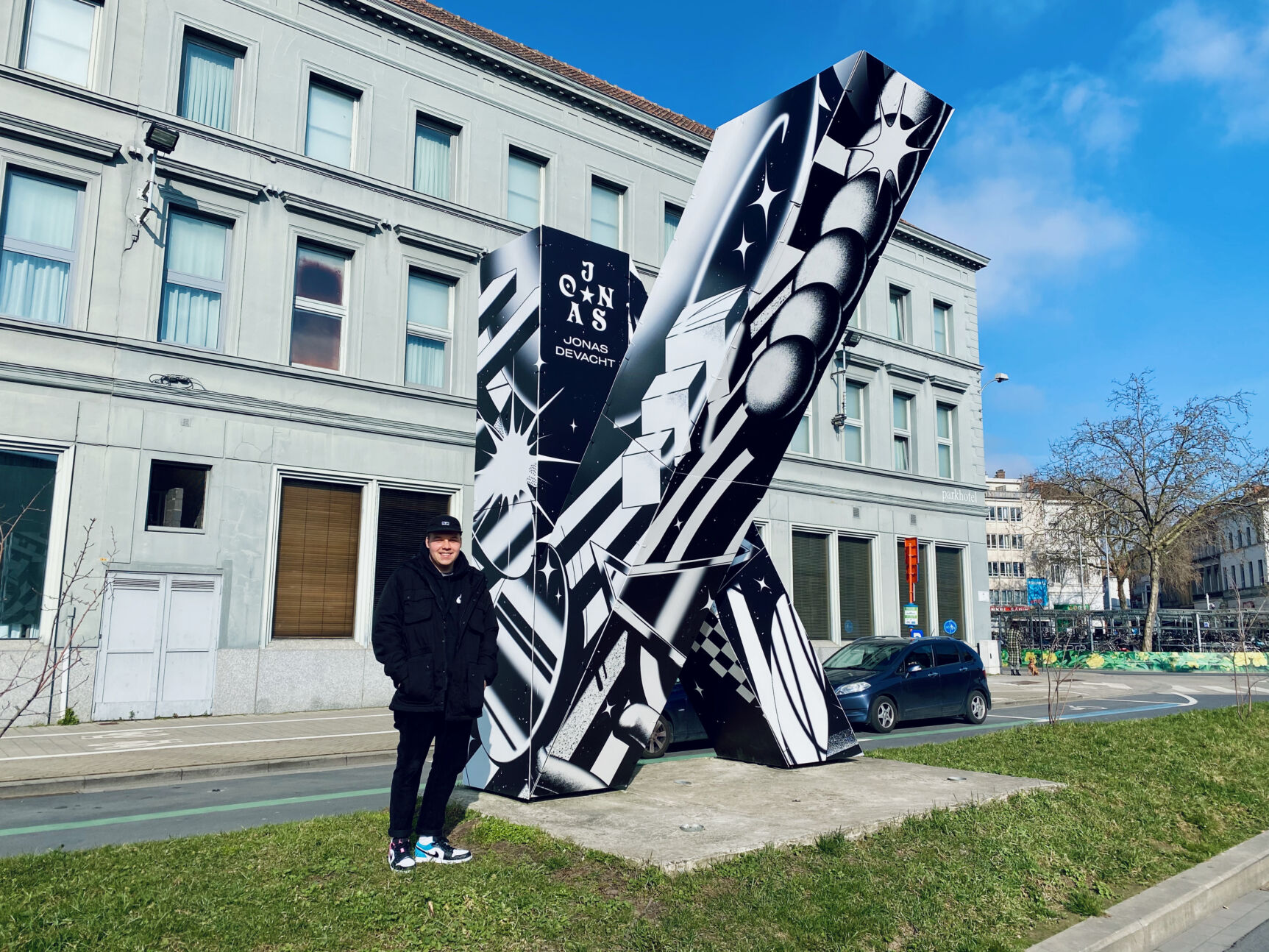 Nieuw K-TOTEM ontwerp door Jonas Devacht
Jonas Devacht is an illustrator and designer from Zwevezele. From his first year at Digital Design & Development (Devine) Howest, he started illustrating. Since then he has been bitten by it and after two international adventures in the UK and US, he took the step to become a freelance illustrator in early 2019.
Follow Jonas via:
Instragram @jonasdevacht
Behance jonasdevacht
LinkedIn jonas-devacht
Describe your K-TOTEM design
For this design, I got my inspiration from various sources. The style elements you find in and around Kortrijk from architecture, patterns, cosy places are reflected in my design. Just think of the lowered Leieboord, which was designed in different heights.
Furthermore, the shape of the K-TOTEM reminds me of MC Escher, where I also got my inspiration. He was particularly known for working with geometric patterns. So for this design, I drew inspiration from his work, but with my own input as an illustrator.
The design is, as it were, one continuous visual combination of different influences, styles, graphic elements... and points to solidarity and diversity in the social character that Kortrijk represents.


Where do you get your inspiration?
I try to rummage through books as much as possible about illustrations, branding, graphic design, packaging etc... But also tattoos and street art give me inspiration. Inspiration also often comes my way, for example when I'm on a city trip. You can always find me in a bookstore or on a street art tour. I also often scroll through different categories on Béhance or Pinterest to see what is going on in the creative world. All this different inspiration then translates into my own work.


Which project are you most proud of?
I am proud of every project I have been asked to work on, but if I may choose just one it is
Jordan
. This was at the top of my bucket list, so I was very surprised when they approached me to design illustrations for the launch of their new Jordan shop in China.

Which illustrators do you look up to?
I really look up to peers who are also independent in the creative field in Belgium. I think it's very cool to see how everyone goes through their own journey and creates very cool things in their own style, this gives me energy to go further and to give more of myself.
Soren Selleslagh
,
Bernd Bousard
,
Davy Denduyver
,
Meneer Heirman
,
Edouard Schneider
just to name a few, certainly deserve their own K-TOTEM.
What is according to you the best spot and/or event in Kortrijk?
The best event in Kortrijk for me was Tacticz at Sinksen, an alternative festival where Drum and Bass (my favourite genre of music) are also played. For me, the most beautiful place in Kortrijk is the Budafabriek. That's where the Devine training of Howest is located. That is actually where it all started. An education in which I could express my creativity and this was appreciated by both teachers and students. That is why I knew very quickly where I wanted to go with my career. And since about six months ago, I've been happily sitting at my desk every day as a full-time freelance illustrator.