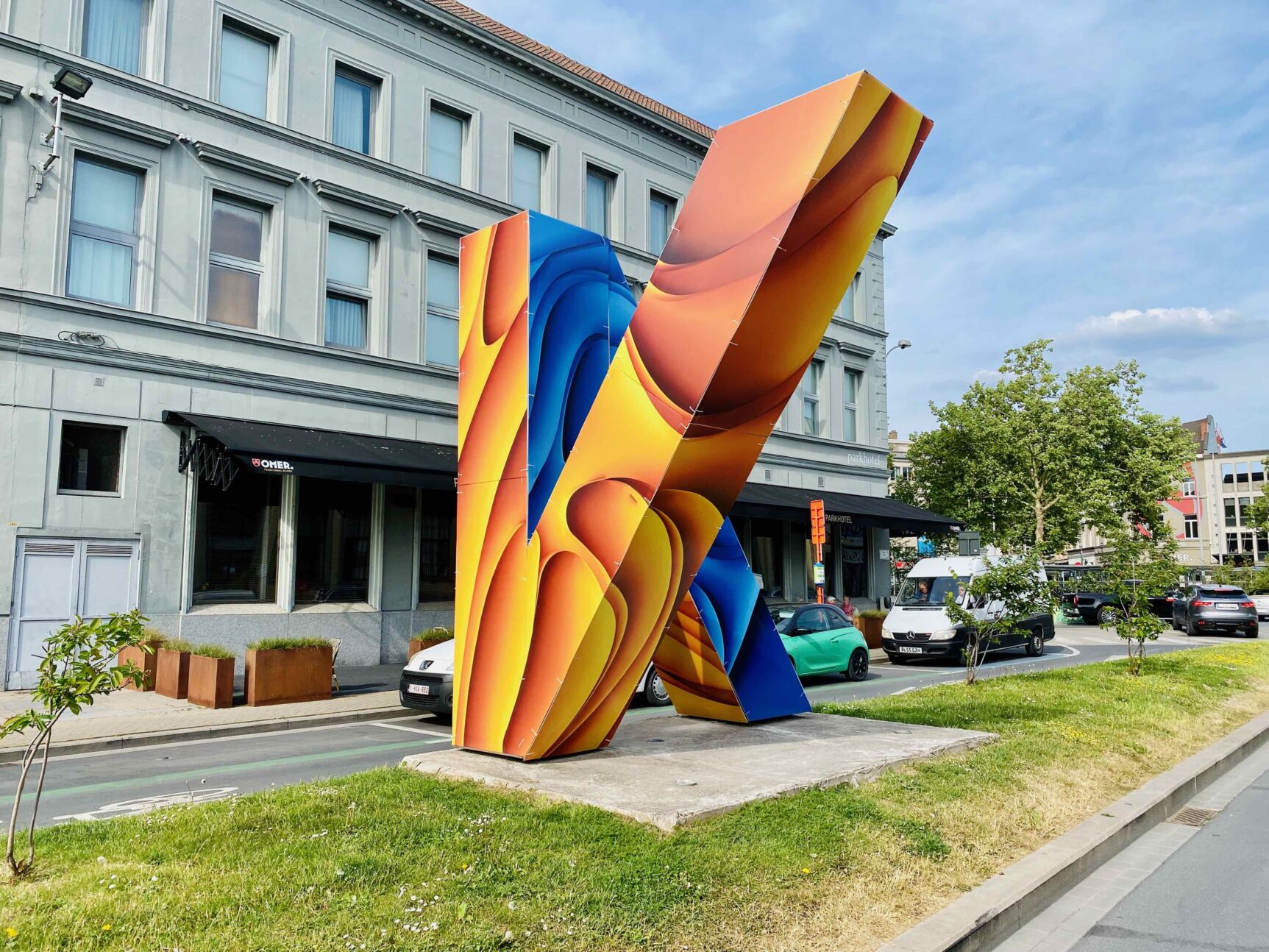 Lithuanian designer K-totem brings message of Unity and Solidarity
The K-totem at Kortrijk station has been given a new look. The design is by Mantas Kuginis, a designer from the Lithuanian city of Kaunas. Kaunas is not only (just like Kortrijk) a member of the UNESCO Creative Cities Network. This year, it is also the European Capital of Culture. On the K-totem, Mantas brings a message of unity and solidarity. We had a chat with the designer.
Can you tell us a bit more about the design you made for the K-totem? What story do you want to tell?
We wanted to portray the collaborative aspect between Kaunas and Kortrijk by integrating elements of Kaunas design and architecture into the Kortrijk design. The concept needed organic and round forms, which are rare in Kaunas architecture. It was a eureka moment to see Kaunas Unity Square captured by a drone in Andrius Aleksandravičius' photo https://www.instagram.com/p/CH...
The name itself contains the word Unity, which fits the cooperation concept perfectly.
The shape somehow resembles one living organ.
The illustration details you see on the K-totem are my visual interpretation of the design of Kaunas' Unity Square.
But the message of unity also refers to what is happening now in Ukraine.
In what way has the war in Ukraine affected you? Do you feel fear or anger about it? How do you think we can help the people there?
I feel devastated. It is sadness, helplessness, fear. It takes me to the days of public school. When a school gang attacks my schoolmates lying on the ground, not much can be done or is done for fear of the consequences. The strong feeling of guilt rears its head and the thought - I do too little to support Ukraine in this helpless situation and history repeats itself.

Those public speeches that say everything will be all right make me wonder "is that really the case?". In my mind, there is only one sad option that can work at the moment: Helping Ukraine with military intervention and being ready to bear the consequences if Russia bombs our cities with friends. Other, more passive options to reduce guilt are donating, volunteering, helping refugees integrate into our countries and raising awareness about this war.
On the other hand, this is the moment when we can experience the unprecedented unity of the countries of the European Union that support Ukraine. An intriguing coincidence is that even the colours of the European Union flag and those of Ukraine are the same. This fact also influenced the illustrations, which are also yellow on the outside and blue on the inside. In the K-totem illustration, Kaunas Unity Square stands visually as an abstract symbol of unity between Kaunas, Kortrijk, the European Union and Ukraine.
How long have you been designing? What kind of projects do you normally work on?
I have been working on design projects for 14 years. I mostly worked on commercial projects. But now I do more art-related projects that I like.

What was the most ambitious, complex or challenging project you worked on before? Is that the project you are most proud of?
Perhaps an illustration of The Reminiscences of Optimism, which led to my exploration of the architecture of modernism in Kaunas, and for this project I did a lot of research into how our city details could be transformed into something relatable and yet something new. After this project, architecture has a special place in my heart. I have become more curious about architectural forms around me, collecting them and researching how they visually translate the character of a city.

Where do you see yourself in 5 years?
Doing personal aesthetic 3D art projects. Interactive absurd art installations. It is an interesting field to combine art, empathy, psychology and multimedia. I am looking forward to this.
In October, a delegation of Designregion Kortrijk will visit Kaunas for an inspiration trip. What should you not miss during the visit to your home town?
Try spurginė - quality Soviet-style donuts and the Museum for the Blind in the basement of Mykolas Arkangelas church by artist R.Antinis.