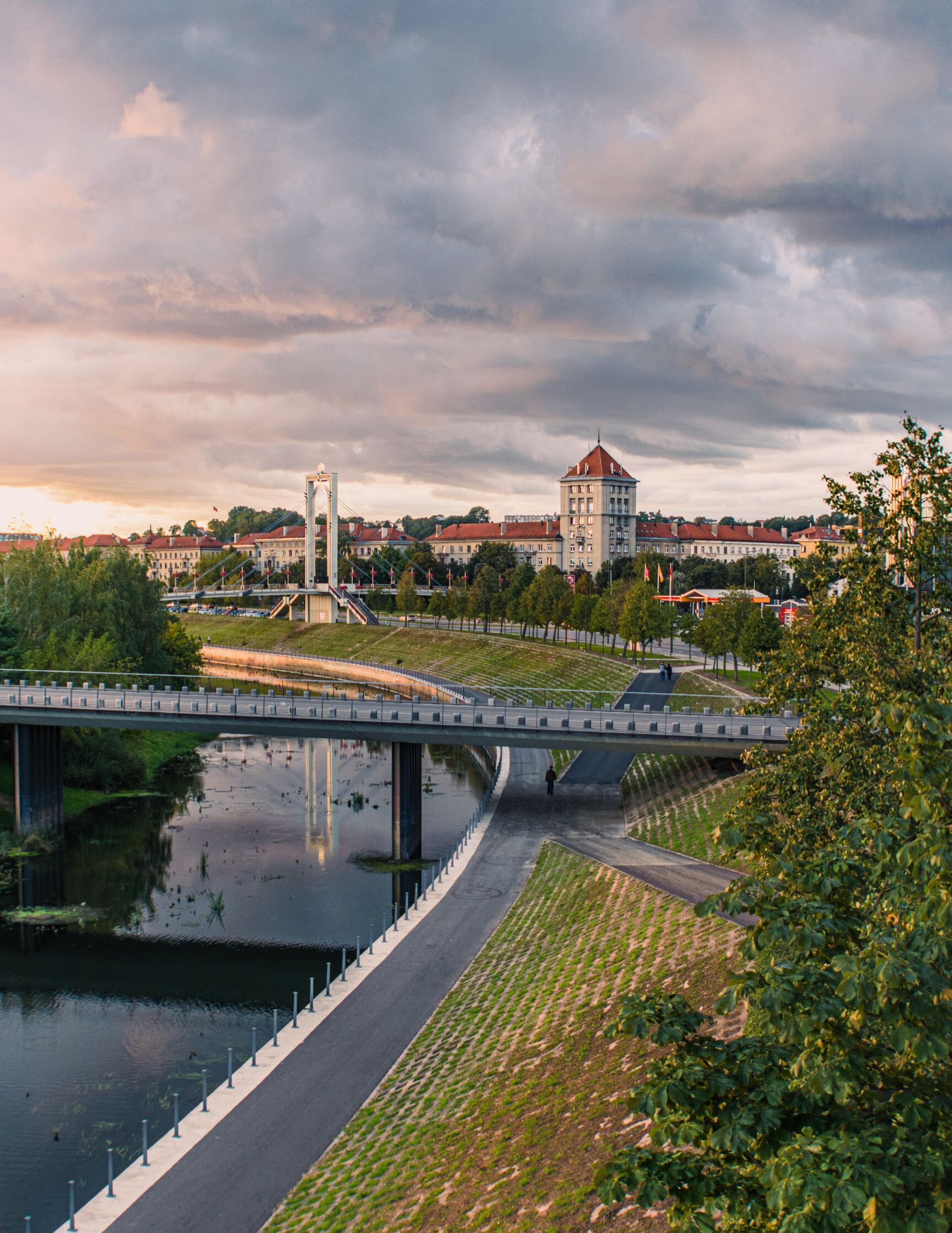 Be inspired by Kaunas, Unesco Creative City and European Capital of Culture
Design region Kortrijk likes to inspire. Once a year, we go on an inspiration trip. This year's destination is Kaunas, the second largest city in Lithuania. Join us from 4 to 7 October 2022! (You can register at the bottom of the page)
Once the temporary capital of Lithuania, it became an architectural jewel in the crown of modernism and art deco. Then it was fiercely suppressed, but now, more than ever, it is ready to flourish again.

What's more, this year the city shines on the horizon as the European Capital of Culture.
Welcome to Kaunas. From temporary to contemporary. It's clear: the phoenix is rising from its ashes.

We discover Kaunas, which this year is writing its first chapters in its new spring.

Resilience, that is what Kortrijk and Kaunas have in common.
We became partners thanks to the UNESCO Creative Cities Network and it soon became clear that we could reinforce each other.

A beautiful collaboration is growing between the two of us. Successful design concepts and innovation programmes are currently being implemented from Kortrijk in the economic and creative fabric of Kaunas.
Conversely, Kaunas can inspire us in the field of architecture, urban development and entrepreneurship, and of course its model can also serve as an example for our own ambition as European Capital of Culture in 2030.

Would you like to discover for yourself what Kaunas has to offer? Ready to be inspired?
Join us on an inspiration trip to Kaunas from Tuesday 4 October to Friday 7 October 2022.
04/10/2021

Evening flight Brussels - Vilnius, departure in Brussels at 18h
Transfer Vilnius-Kaunas
Stay at Moxy Kaunas Center, in the heart of Kaunas; an energetic alternative to the typical hotel experience.
05/10/2022 'Kaunastic City'
Morning:
Presentation of the city and its history in the inspiring Council Hall, followed by a talk by Jonas Audėjaitis, Dean of the University of Arts, on the architecture and urban development of Kaunas.
Afternoon:
Inspiring bicycle tour along iconic places and buildings in the city. The modernist architecture, the new developments on the Nemunas Island and the K-Totem, which was installed in cooperation with Designregion Kortrijk, will all be discussed. As a break we have lunch in the extremely hospitable and gastronomic DIA.
With the visit to the Art Deco Museum we travel back to the 1930s and experience how the architecture and authentic interior are an expression of the way people lived in the city of Kaunas in the 1930s.
Evening:
For dinner we are hosted by the flamboyant architect and artist Edita Stankevičiūtė-Righetto in a former chapel that now serves as her showroom and design studio. This unique location will be the setting for a networking moment with local entrepreneurs, designers, architects, policy makers and education specialists in the presence of Visvaldas Matijošaitis, Mayor of Kaunas and Thomas Castrel, the Flemish representative for the Baltic States .
06/10/2022 'Kaunastic Business & Culture'
Morning:
In the morning we visit the companies Barker Textiles and Elinta. Barker Textiles is a producer of quality wool and cotton home textiles. It is also one of the participants in the first 5X5® innovation programme currently being rolled out in Kaunas and set up in cooperation with Designregion Kortrijk.
Elinta, located in the Free Economic Zone, is a high-tech innovator with core technologies ranging from the production of automation systems, electronic components and advanced imaging tools to electric mobility.
Afternoon:
In the afternoon we will start with a visit to Verifo, the main sponsor of Kaunas European Capital of Culture 2022. Verifo is a global provider of Banking as a Service (BaaS) and, as a fintech player, is also strongly committed to NFTs.
Afterwards, we will visit some expo's in the framework of Kaunas 2022 European Capital of Culture, spread throughout the city.
Evening:
Dinner at Nüman restaurant, the house of balanced taste, inspired by contemporary Scandinavian cuisine, with influences from all over the world.
07/10/2022 'Kaunastic Design'

Morning:
Designregio Kortrijk has many years of experience with the 5X5® innovation programme where a company, in collaboration with an external designer, starts working on an opportunity to come up with a new product/service in one year's time. Since the beginning of 2021, Designregio Kortrijk has been training a team from Kaunas so that they too can guide companies and designers through the 5X5® process. The exhibition of the 5 products which have emerged from this first trajectory will be launched in your presence during a breakfast reception.
Transfer Kaunas-Vilnius
Flight Vilnius-Brussels, arrival in Brussels at 15h
Stay at Moxy Kaunas Center, in the heart of Kaunas; an energetic alternative to the typical hotel experience.

Price
Participation fee incl. flights, hotel, transfers, lunches and dinners, visits:
1,750 EUR* p.p. for single
1,650 EUR* p.p. for double
*Airline taxes and fuel surcharges can still change until tickets are issued
(Not included: possible insurances, transfer to and from Brussels Airport)
Registration is possible until 15 May via this link.
For this trip we work together with MI AGENCY (member VVR - 7135)
Phone number: 0495 79 54 55
Email: marianne@mi-agency.be
After receiving your registration MI AGENCY will send you the invoice.
Payment of 50% by return.
Balance expected by 19/08/22 at the latest.