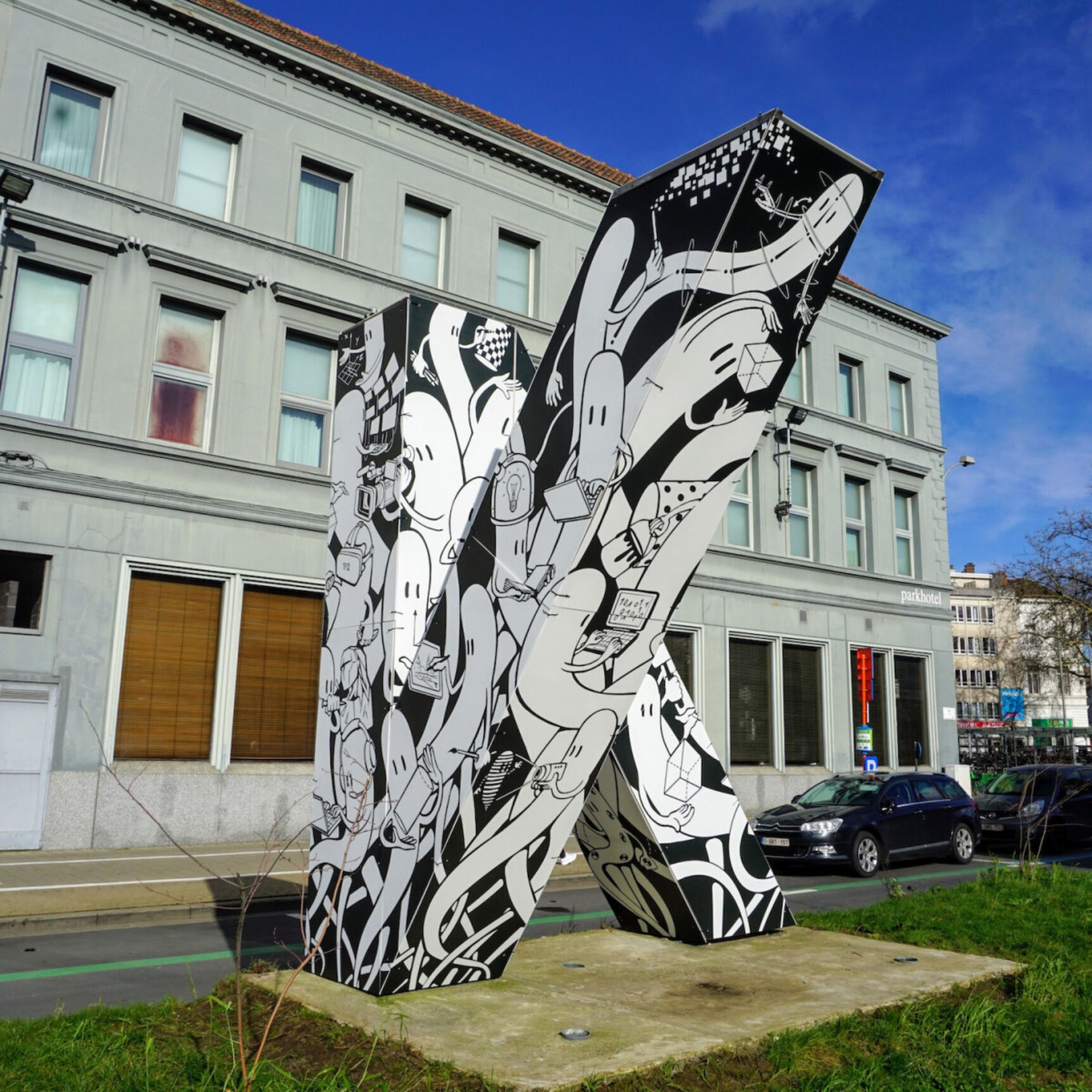 K-TOTEM ontworpen door Jonathan Absil
The new decoration of the K-Totem was designed by Jonathan Absil, tattoo artist and teacher at the DAE (Digital Arts & Entertainment) department of HOWEST.
Follow Jonathan via:
www.instagram.com/captain_skull_tattoo/
http://www.deodatusdesign.be/
Describe your K-TOTEM design
The theme of my design is "the virtual makers". The digital masters of the virtual world trained in Kortrijk. They are represented in the form of little spooks growing out of the ground in Kortrijk, each representing a facet of the creation process of video games, 3D animations, films.... I chose a legible, contrasting and playful illustrative style with organic shapes that can still serve as a pattern.
The unusual shape of the totem certainly presented some challenges. For example, I wanted the drawings on each side of the totem to flow nicely into the other sides. The composition and maintaining a good black and white balance were very important. By the way, you will not see two identical ghosts from any angle.


Where do you get your inspiration?
From everything! From life. Observing people and things and being open to any new experience or knowledge. History and current events are the best inspiration. Fairly easy to find in documentaries, books or the newspaper. Visiting exhibitions. Going to the theatre. And travelling! Preferably without preparation. Non fiction; films, comics and series. Rather the science fiction genre. As believable as possible. Science is cool! And of course to the endless streams of images and creations from the internet. Thank you Pinterest!


Can you link this to your gaming experience?
I hardly play any games myself. But I know the world pretty well because I've been teaching at Howest's "Digital Arts and Entertainment" course for years. My background and interests lie more in the liberal arts and graphic arts, digital illustration and 3D animated films. In recent years, I have discovered the art of tattooing and I now do this as a secondary occupation, alongside illustrations.


Which assignment are you most proud of?
My class assignment actually. It is a great honour and responsibility to have inspired young talent for 14 years now. And in terms of personal work, I am usually most proud of the very last work I made. Until I make something new...


Which illustrators do you look up to?
Gustave Doré, Félicien Rops, André Franquin, Jean Giraud (Moebius), Juan Giménez, Kim Jung Gi, Enki Bilal
What do you think is the most beautiful spot in Kortrijk?
The footpath along the Leie past Kortrijk-Weide along both banks is a nice strip of green. The terrace of PandA at the Conservatory is quite cosy in summer, and the Onze-Lieve-Vrouwkerk and the Gravenkapel are very interesting places. We go there regularly to draw. I have discovered many details and old stories here.