Now available: FINE FOOD BOX
Be surprised by the delicious flavours of Kortrijk! For the FINE FOOD BOX, 6 Kortrijk traders worked together to introduce you to their carefully selected delicacies. Ideal as a gift or to spoil yourself. And all in a reusable creative jacket. Enjoy!
At the end of 2022, Onderneem in Kortrijk and Designregio Kortrijk launched an appeal to all Kortrijk traders. Together they went in search of the 'flavours of Kortrijk'. A jury assessed all entries and came up with this box. It comprises 6 different products packed in a stylish cardboard box designed by Kortrijk designer Madhouse Graphics.

With the foodbox, Kortrijk aims to attract new customers to the various traders. In addition, it is an opportunity to put local traders in the spotlight that are less well covered through promotional channels today. Kortrijk is home to many strong entrepreneurs and the Fine Food Box wants to draw attention to them with an original mix of products.

Ambassador of this Fine Food Box is the Kooigem actress Leen Dendievel. In a promotional video, she praises the different products.

The box is available from today at all participating retailers for the price of 40 euros. Be quick, the edition is limited!
Dumon Chocolatier
Dumon Chocolatier offers an assortment of nine chocolates with ganache filling. Be seduced by the delicate flavour of these pearls filled with soft chocolate buttercream.
www.chocolatierdumon.be
Doorniksewijk 74, 8500 Kortrijk
Di tem za open van 10u tot 18u
Viva Sara
Start your day the perfect way with a delicious cup of coffee from Viva Sara. Taste their craftsmanship in the intense aromas of the coffee beans they have carefully selected with respect for tradition and sustainability. Fact! On the packaging you can see the Kortrijk-born George Washington. He was born in 1871 a stone's throw from the Halle Tower and went to America when he was 25 to conquer the coffee market.


Korte Steenstraat 2b, 8500 Kortrijk
ma-zat : 10.00h - 18.00h
Charlou Delicatessen
Spread this tapenade by Charlou Delicatessen on a tasty toast and you will feel like you are in sunny Provence.
www.charlou.be
Voorstraat 39, 8500 kortrijk
10u30-18u, woensdag & donderdag gesloten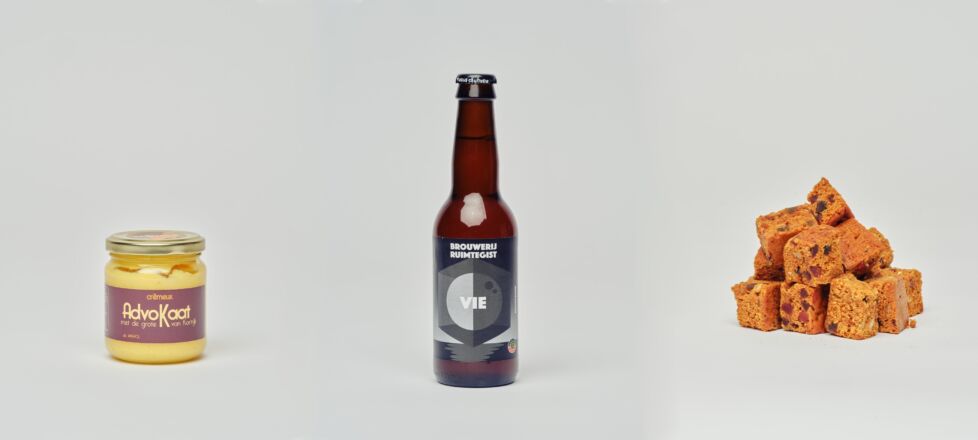 Crèmeux
AdvoKaat with the K from Kortrijk! The two sisters of Crèmeux make AdvoKaat the grandmother's way. Their secret ingredient for the unique flavour? The fine bourbon vanilla from Madagascar.
www.cremeux.be
Voorstraat 45, 8500 Kortrijk
van woensdag tot en met zondag van 13h tot 18h
Brouwerij Ruimtegist
Brouwerij Ruimtegist's three beers are brewed in the historic heart of Kortrijk, from the Buda Island. Vie is a Belgian blonde, Obsquur a quadruple and Nova a triple beer. Something for everyone!
www.ruimtegist.be
Budastraat 12, 8500 Kortrijk (via café De Dingen)
7 op 7 van 9u tot 18u
Patisserie Courcelles
Patisserie Courcelles' pepper balls are filled with candied fruit and a hint of anise, for a delicious balance between sweet and spicy.
www.patisseriecourcelles.be
Doorniksestraat 8, 8500 Kortrijk
7h45-18h, niet op di en wo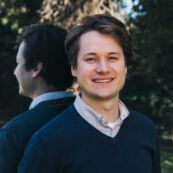 More info? Contact
Stan Dewaele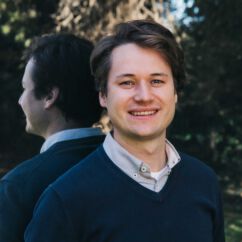 Stan Dewaele
Stan is the link between the industry and the designers. Under his coordination, the innovation processes with companies and designers take shape. As coordinator of the open makerspace BUDA::lab, he keeps his finger on the pulse of the makerspace world.