Archive
Discover here some completed projects of the last 15 years.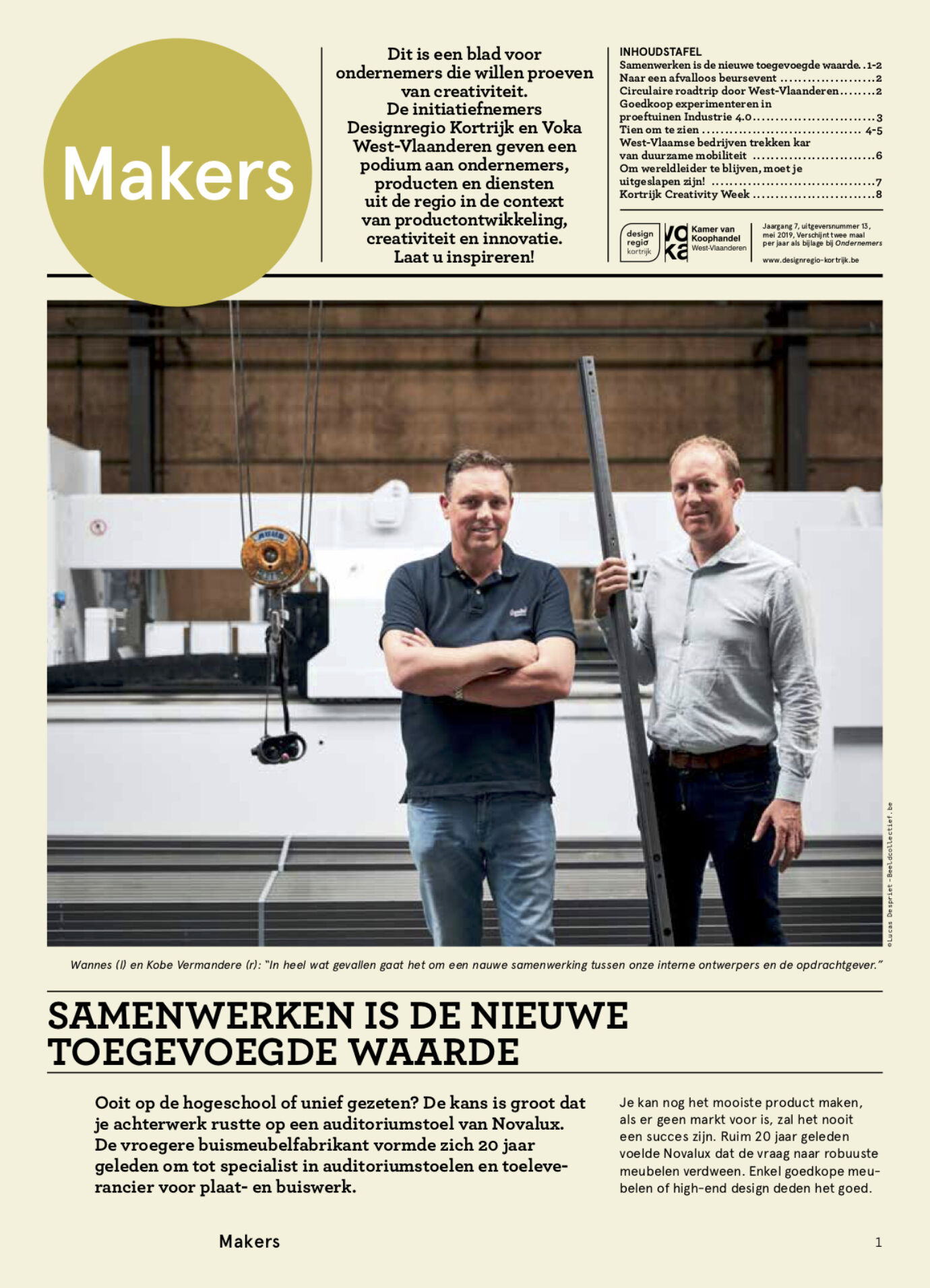 Makers
Makers was a magazine for entrepreneurs who wanted a taste of creativity. It gave a platform to entrepreneurs, products and services from the region in the context of product development, creativity and innovation. The objective was to inform regional entrepreneurs about the added value that product development can offer.
With interesting cases telling the story of regional companies that apply product development, we wanted to sensitise and stimulate the readers of Ondernemers van Voka-West-Vlaanderen to implement creative design. Through a mix of interviews, portraits and stories from companies, the reader was informed in a very accessible way about the world of product development. Both short articles and extensive case studies helped to create an image for the reader. Stylish photos, graphs and other nice visual material also contributed to this.
In Makers, it also became clear how organisations such as Designregio Kortrijk, Voka and other parties could help and support this implementation. In other words, this hands-on section was not only for the design connoisseur but also for the entire readership of Ondernemers.
Makers was published twice a year as a supplement to the magazine Ondernemers (Entrepreneurs) of Voka West-Vlaanderen.
SPURT – Young entrepreneurs in the starting blocks
In 2016, the city of Kortrijk launched SPEK, a platform to stimulate entrepreneurship among students. The city received support for this from the European Regional Cooperation Fund.
That project is now being expanded and also given a new name: SPURT.
In 2019, SPEK 2 SPURT - Young Entrepreneurs in the Start Blocks was launched to help spread the word about entrepreneurship among young people in the Kortrijk region. The project will be extended to all higher education institutions in Kortrijk. All players have joined forces to turn the brain drain into a brain gain and to stimulate new forms of entrepreneurship within one strategy.
Together with the Hangar K-based design & innovation group Leap Forward, the focus of the project was determined in collaboration with all stakeholders and the target group, and guidelines were set out for the new branding.
Follow-up to SPEK
SPURT is the sequel to SPEK which ran from September 2016 to August 2018. Student Platform Entrepreneurship Kortrijk laid the foundation for a collaboration between the colleges VIVES and Howest and the universities of Ghent and Kortrijk and a number of youth organisations. The intention was to stimulate entrepreneurship in the courses of the university colleges. In concrete terms, the colleges and universities organise events and accompanying workshops for students interested in entrepreneurship.
Ecosystem shifts up a gear
"With SPURT, we are now shifting up a gear. The project is being extended to all higher education institutions in Kortrijk. This is a new and very important step," says Kelly Detavernier, alderman for education. "In addition, there will be a network of entrepreneurial coaches in all courses who will actively guide student entrepreneurs. All relevant players are joining forces to present one joint, complementary and innovative annual plan, via a visual digital platform."
The City of Kortrijk undertook this project together with the educational institutions Howest, VIVES, UGent Campus Kortrijk and KU Leuven Campus Kulak Kortrijk. They joined forces with Designregio Kortrijk, the youth radio station Quindo, but also worked closely with VOKA, Vlaio, Vlajo, Unizo, TUA West and an advisory group of young entrepreneurs.
682,642 euros were made available for this project, of which 44,877 euros were paid by the city. Howest and VIVES contributed € 48,720, UGent Campus Kortrijk € 20,732 and KU Leuven Campus Kulak Kortrijk € 19,397. The city could count on financial support from Europe, the Flemish Minister of Economy, Hermes and the Province of West Flanders.
ERDF Flanders contributed € 273,056.50 in financial support, the Flemish Minister for Economy (Hermes Fund) € 204,792.50 and the Province of West Flanders € 22,527.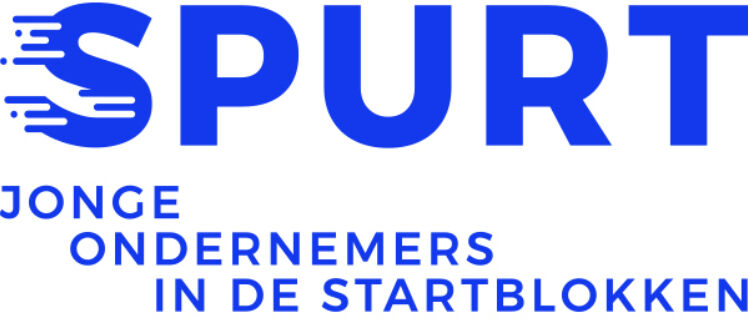 Kortrijk Creates
Kortrijk Creëert wanted to make the image of Kortrijk as a design region more visible, both to inhabitants and to visitors. 15 entrepreneurs and 3 designers made Kortrijk even more of a city of creation and innovation.
Make Kortrijk a city full of creation and innovative products
A project for all inhabitants, shopkeepers, hospitality managers, students, entrepreneurs, designers, visitors, ... who want to make Kortrijk (even more) the city of creation and innovation.
Of course we are a region of makers and doers, but do you see this sufficiently in our city? With "Kortrijk Creëert" we want to highlight our identity even more in the cityscape.
How do we go about it?
STEP1: BRAINSTORMING
In a first phase, we brainstorm for ideas: how and where can we make it more clear that Kortrijk is the city of creation and innovation?
STEP2: CREATING
From the brainstorming we then choose 3 ideas that will help to really put Kortrijk on the map as a creative manufacturing city.
From December 2014 to February 2016, we will work out the 3 ideas in concrete terms, together with regional companies and designers.
Of course Kortrijk is a region of makers and doers, but do you see and experience that in the city? 16 companies, 2 colleges and 3 design bureaus accepted an invitation from the city of Kortrijk, Designregio Kortrijk andVoka - Chamber of Commerce West-Vlaanderen to co-create in the project 'Kortrijk Creëert'. Mission and goal: to make Kortrijk even more of a city of innovation and creation.
There were 3 project lines:
1 'Create a wow-feeling for those who enter the city'.
2 'Create a mobile unit that gives a temporary function to an undeveloped area.
3 'Create an experience that reflects the DNA of the region.'
In January 2015, the monthly co-creation sessions started. The many ideas were concretised into 3 projects. 10 months later, the co-creators are proud to present their prototypes to the general public during Design Week. At the same time, they are collecting feedback.
Co-creators: De Eenhoorn Wielsbeke, FFF Design Kortrijk, Howest Kortrijk, Outdoor Wood Concepts Avelgem, Q-Lite Kortrijk, Verilin Kortrijk, A3 Ontwerpbureau Kortrijk, Allaert Aluminium Harelbeke, Beltrami Harelbeke, Group De Keyzer Menen, Viva Sara Kortrijk, Unilin Panels Izegem, Vives Kortrijk, Abka (Ergodome) Kortrijk, Fotorama Wevelgem, Het Salon by Marcel Kint Kortrijk, Monavisa Roeselare and Saey Home & Garden Kortrijk.
Coordinating design agencies: Pilipili Productontwerp Kortrijk, TEN Group Kortrijk and CREAX Kortrijk With thanks to: Verlimas Wevelgem, Clem Kortrijk, Halte R Kortrijk and Multiprox Aalst
STEP3: SHOWTIME!
From March 2016, the final results of our brainstorming and creation exercises will be actively visible in the cityscape.
This project was part of "TAK27", a collaboration between the cities of Tienen, Aalst and Kortrijk with the aim of raising their profile, respectively as 'city innovating in the food of tomorrow', 'hotspot for care' and 'city of creation and innovation'. In the three cities, three opportunities were worked out by means of three design techniques. The aim of the project was to create a stronger image. The project focused strongly on cooperation with companies. The project was supported by the Enterprise Agency.
In Kortrijk, on the initiative of the city council, many actions have already been taken to put Kortrijk on the map as a 'manufacturing' city and a city of innovation and creation. Examples are the Biennale Interieur, the Hogeschool West-Vlaanderen and the UGent Campus Kortrijk with its bachelor and master programmes in industrial design, the Week of Design, the realisation of meaningful public buildings and high-quality public spaces. Despite the clearly present DNA and the efforts of the city, it remains difficult to make this identity clearly visible in the cityscape. The TAK27 project offers the city a unique opportunity, together with businesses and the population, to profile itself as a city of innovation and creation through very concrete and visible actions.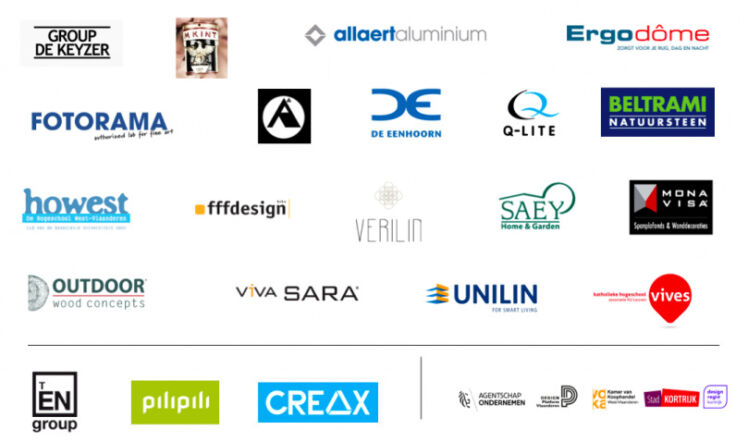 The results of the project were presented to the public for the first time at INTERIEUR 2016 with the concept UNDER THE BRIDGE.
The monumental K is an eye-catcher in the city. On the occasion of Interieur 2016, the sculpture was given a sensational makeover with prints by the internationally renowned West Flemish illustrator Carll Cneut. The illustrations are from two picture books published by publishing house De Eenhoorn from Wielsbeke.
After Interieur, the K-TOTEM will get a permanent place in the city. The covering of the sculpture will change and will each time be the result of a collaboration between a company and a designer.
50 plastic building block modules are available to the city services and can be used as benches, flower boxes, fences. The modules are also adaptable on their own. For example, they can be filled with water or lighting can be placed in them. In this way, an area is transformed in no time into a playground, a football pitch, a kiosk, ... or, as in the period of Interieur, into a trendy pop-up bar. The building blocks are quick to assemble, easy to maintain and 100% recyclable.
Let the inhabitants themselves decide what is worth discovering, visiting, experiencing,... in Kortrijk.
Since September, Kortrijk residents have been able to give their tips for visiting and staying in Kortrijk via a survey in the city newspaper. The must sees and hotspots will be visible on a city map on www.kortrijk.be/fijnsteplekje.