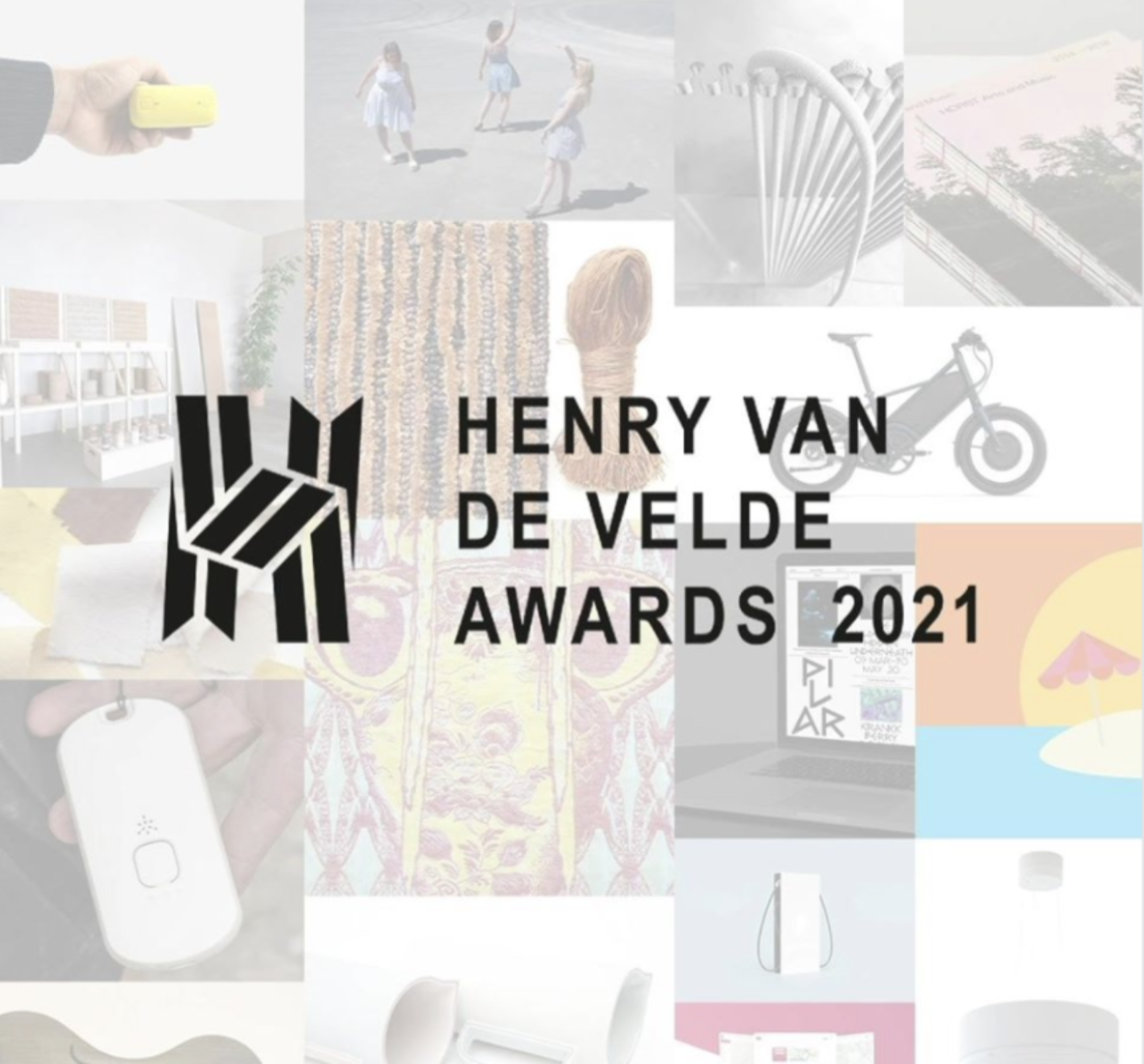 Henry van de Velde Awards 2021
Vote now for the Public Choice Award!
This year, Flanders DC's Henry van de Velde Awards once again showcased projects, products and services that demonstrate the added value of design from its most diverse side. A professional jury was put together to select 17 winners in 7 categories from 198 entries. Each and every one of them fine examples of innovative, qualitative and inspiring design.

The final Gold Award winner of each category will be announced during the award ceremony on 5 February 2021 in BOZAR.

From now on, the public can help determine which entry will win the Public Choice Award.

Designregio Kortrijk is very proud that once again many regional companies have won an award. Below, we would like to highlight the projects with a link to the region and our organisation!

VLAS - Designer ANITA KARS - Company CASALIS (Kortrijk)
Carpet

VOTE HERE

Linen is a durable material that is part of our culture. It grows here in our Flemish countryside. Kortrijk, situated on the banks of the Leie, is steeped in the rich history of the linen and flax industry. In cooperation with Casalis, Anita Kars develops a carpet in which the motif and the way of manufacturing highlight the positive characteristics of linen and turn the negative ones around in a positive direction. VLAS combines two sustainable materials: wool and linen. Both materials reinforce each other's good qualities. Wool is voluminous and deep in colour. Linen has a brilliant shine. The wool thread is sprinkled with a combination of four shades of colour (sprinkle dye). No two threads are the same. The tufted resilient wool fibre pushes the linen fibre upwards so that it can shine beautifully. The contrast in colour and texture of both materials is further emphasised by the motif: a line inspired by a dirt road in a landscape, after a sculpture by Sarah Moon. A landscape with movement and repetition. A landscape that reflects the individuality of the materials and the traditional tufting process. VLAS is available in the original colour palette that is based on the colours of materials found in and around the home: wood, concrete, terracotta, plants, trees and daylight in all its facets. Thanks to the colour punch box with more than 40 colours, the customer can also create a customized VLAS carpet himself.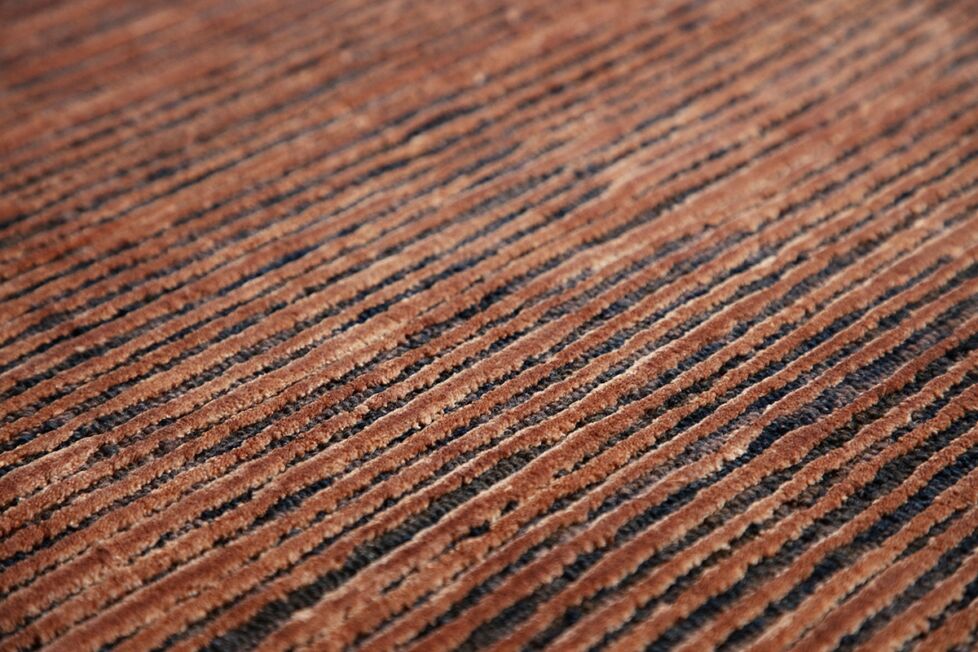 ALOXY PULSE - Designer STUDIO DOTT. - company ALOXYE A revolutionary wireless sensor for the petrochemical industry to remotely monitor and control all processes.
VOTE HERE

Design agency Studio Dott. is currently going through a 5X5® innovation project with the Wevelgem-based company Sedac-Mecobel. The results of this collaboration will be presented at the next Biennale INTERIEUR in October 2021.

The Aloxy Pulse is a revolutionary wireless sensor for the petrochemical industry that allows remote monitoring and control of processes. Safety is the top priority in the petrochemical industry, and the ATEX-certified Aloxy Pulse plays a crucial role in this.

The underlying technology is the result of years of intensive research at the University of Antwerp and imec. Researchers developed a sensor that is extremely energy-efficient and can communicate over a long distance. Aloxy called on Studio Dott. to help translate the research into a market-compatible product and to design the appropriate branding.

In the petrochemical industry, there is a need for safe and efficient management of installations. In practice, this means, among other things, controlling the position of various manual valves and taps in order to keep all production processes on the right track. Until now, this has mainly been done manually, which means that the monitoring process is not always flawless. The Aloxy Pulse can be installed on any manual valve and measures the position of the valve in real time. Everything is done automatically and the live data is sent to the control room. This makes the control process much faster, more efficient, safer and virtually error-free. The Aloxy Pulse measures more than what human efforts can map out. The sensor makes a digital fingerprint of each valve. This enables it to identify the exact position of the valve, for example, indicating that a valve is closing more than 100% due to wear and tear. The sensor also promotes sustainability by reducing the risk of leaks and production losses in the petrochemical industry. Incidents in this industry can be disastrous for people and the environment. In addition, the technology is extremely energy efficient. The new sensor uses very little energy, so the battery lasts longer. Because no wiring is required during installation, you also save a lot of material.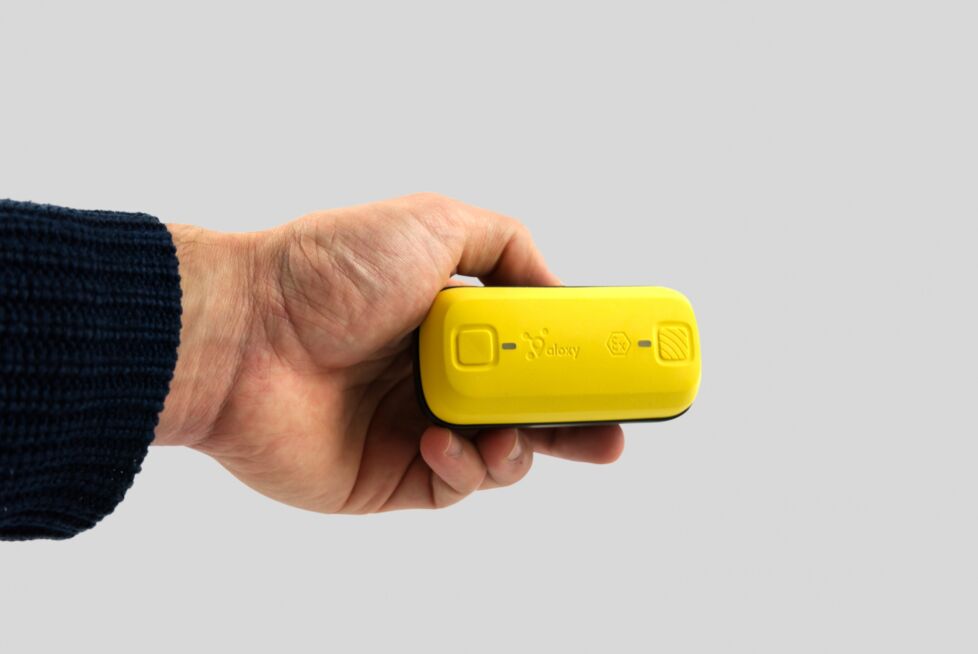 SMAPPEE EV BASE - Designer STEFAN GROSJEAN - Company SMAPPEE NV (Harelbeke)Electric charging system for cars on car parks of large retail and commercial buildings

VOTE HERE

For owners and operators of large retail and commercial buildings, charging the increasing number of electric vehicles is a challenge. The buildings' current electrical infrastructure cannot cope with the additional demand for energy from electric cars. Charging multiple electric cars at the same time or at any time can lead to blown fuses, damaged circuits and blackouts. Moreover, there is insufficient insight into the charging process and solar energy cannot be optimised for the charging sessions. Smappee's EV Base is a charging station that offers an answer to this challenge.

EV Base is a total solution that allows multiple charging stations to be installed within the existing infrastructure without worrying about the energy supply to the building. The built-in smart charging function provides optimised auto consumption, DC leakage detection, autonomous overload protection and customised smart EV schedules. In addition, the built-in Smappee Infinity technology gives companies extensive insight and control over energy consumption. The EV Base is easy to install and use thanks to fixed cables. Payment is done via QR codes and integration with eMSP. Thanks to the integrated lighting and the adaptable design, the EV Base charging station is an added value for each business parking space.

In addition to the automatic optimised control of the energy flows and optimal use of solar energy, the charging station itself is made from sustainable materials such as volkern and aluminium. These materials ensure that the charge post itself is highly durable. In addition, the charge post is weatherproof, shockproof and has excellent fire resistance and high UV resistance.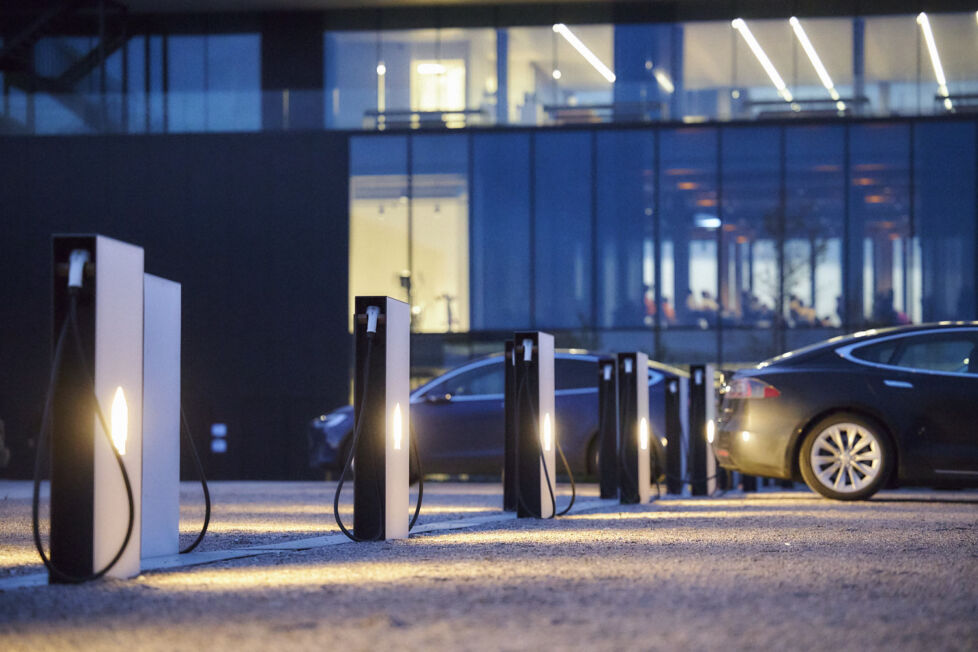 LOPOS SAFEDISTANCE - Designer PILIPILI (Kortrijk) - Company LOPOSS Sensor that ensures in real time that sufficient distance between employees is maintained.

VOTE HERE
At what distance should colleagues work from each other to remain one and a half metres apart even when moving? During work, it is often difficult to correctly estimate and respect the distance and thus guarantee everyone's safety. With SafeDistance from Lopos, a spin-off of imec and Ghent University, however, this becomes child's play. The wearable automatically measures and reports the distance between employees and warns if the necessary distance is not observed. SafeDistance is a small, light and portable device that measures the gap to other SafeDistance sensors in real time. As soon as the pre-configured distance of 1.5 metres is not respected, the wearable gives a sound and vibration signal and an LED lights up to warn you that more distance is needed. The ultra-wideband technology ensures accurate measurements, without the need to keep track of location or personal data. SafeDistance is now used all over the world, not only by small SMEs but also by large fortune-1000 companies.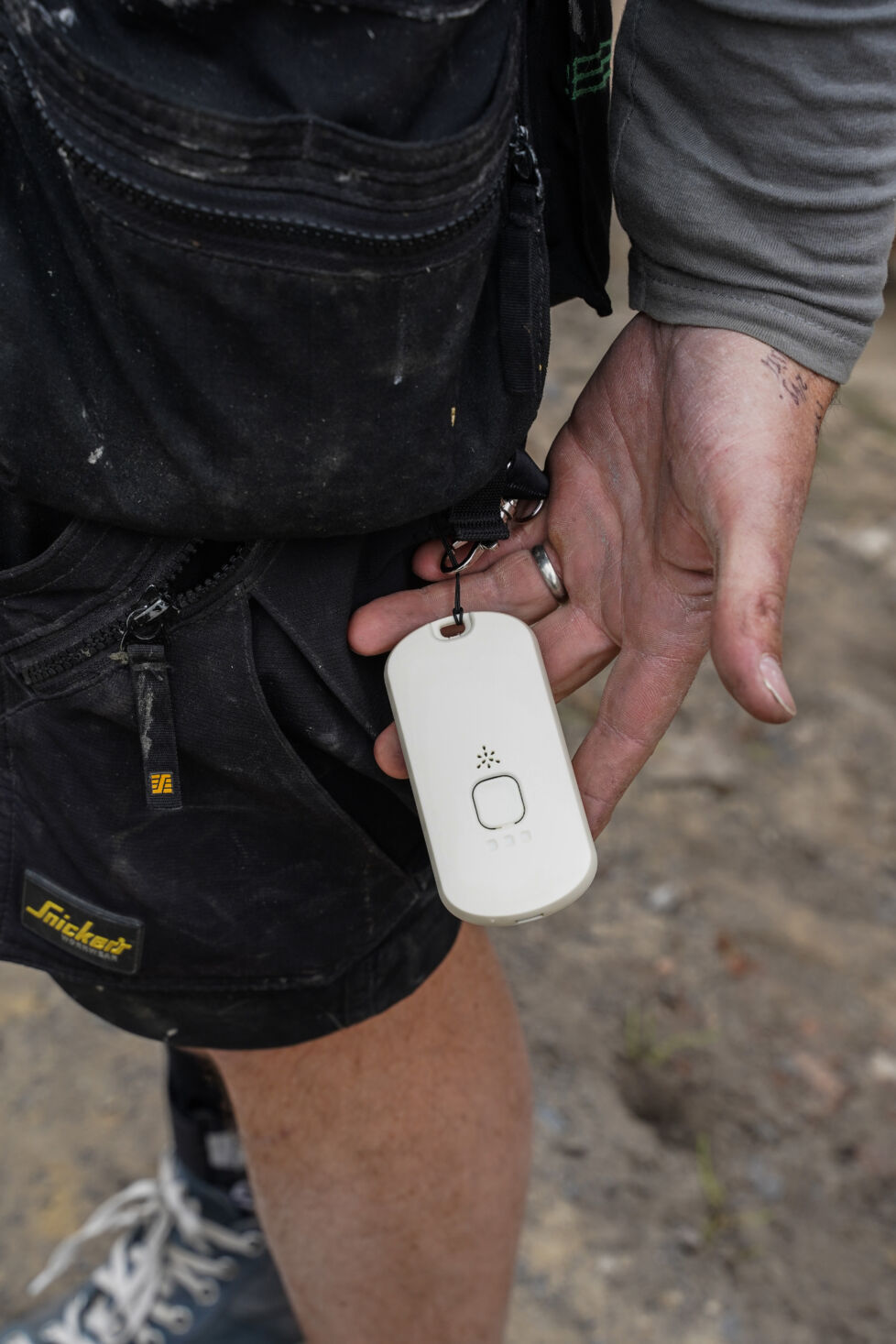 SLIM TO ANTWERPEN - Designer LEAP FORWARD i.c.w. Studio Hyperdrive - company STAD ANTWERPEN
Stimulating a new mobility behaviour.

VOTE HERE

Together with Leap Forward and Voka West-Vlaanderen, Designregio Kortrijk is making the podcast Hallo Innovatie, honest stories about the search for successful innovation.

Antwerp is undergoing major infrastructure works that will have an impact on the city's mobility for a long time to come. To inform people about how they can move around in and around the city, the mobility team of the City of Antwerp launched a Slim Naar Antwerpen campaign.

Antwerp has set itself a clear goal with the Master Plan 2020, which states that by 2020 half of all journeys in Greater Antwerp must be made by public transport, on foot or by bike. When various faster and more efficient modes of transport are available, people will use their cars less to get around. That is why this 'Slim Naar Antwerpen' campaign, in its website, application and route planner, focuses on combining car traffic, public transport, safe bicycle networks and transport over water.

The City of Antwerp delegated the challenge of developing an accessible platform to the design agency Leap Forward, because of their expertise in user research and UX analysis.

Leap Forward set up user tests in which they let inhabitants of the city explore the current website. To get to know the perspective of the citizen even better, Leap Forward took to the streets of Antwerp to question people live. Leap Forward converted the conclusions from this user research into a user-friendly, meaningful information architecture for the website, which was subsequently tested and improved by a variety of target groups.

The mobile application keeps users up to date anytime, anywhere thanks to real-time information presented in a very accessible way. The route planner is the first in the world to suggest a smart combination of all available modes of transport. The platform Slim naar Antwerpen is therefore known as best practice in the most prominent European cities.

Like the city, the platform is constantly evolving. That is why the employees of the City of Antwerp received training so that they are able to work independently on the new content to be put on the website. In this way, they can always inform the inhabitants of any road works or changes on their route to Antwerp.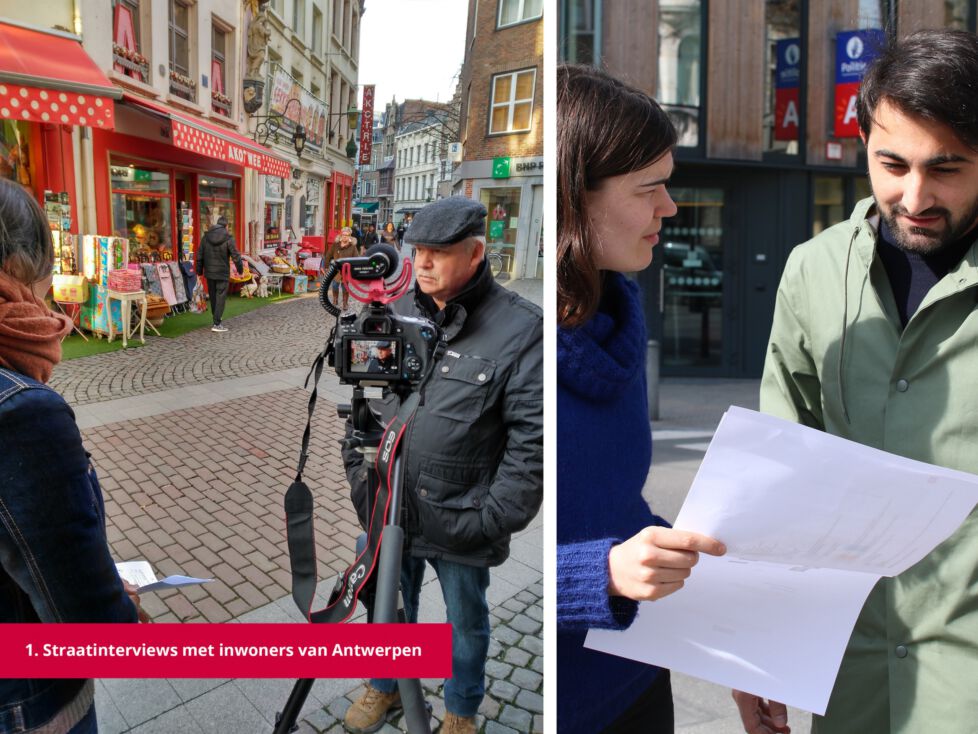 PILAR IDENTITY AND COMMUNICATION - Designers Corbin Mahieu and Lennart Van den Bossche - Company PILAR (VUB)Identity and communication of the new house of culture for science and art in Brussels: PILAR
VOTE HERE

Graphic designer Corbin Mahieu has already had a long collaboration with Designregio Kortrijk. He developed the identity of Buda Libre and designed three books, and the house style of the Designers in Residence Kortrijk project. The book of edition 2019 will be launched very soon.
Pilar, the new cultural house of the VUB, is an open, artistic lab for young people in Brussels and a place for cross-pollination between art and science. It functions as a testing ground for art and talent development. Twice a year the house organises Pilar Asap: a multidisciplinary festival in which exhibitions, performances, lectures and workshops complement each other. At the centre is a selection of young artists and musicians who, according to Pilar, should be on everyone's radar. For the communication of the festival, designers Corbin Mahieu and Lennart Van den Bossche went in search of a typography that encompasses the different worlds of Pilar: the historical strength and age-old generations of the university on the one hand, and the rebellious, punky youth of Pilar on the other. The typeface Bill from 1950 by artist Max Bill (1908 - 1994) encompasses both elements: it is based on the ancient cuneiform script used in temples to transfer knowledge to reading stones. In addition, the typeface leans towards a graffiti-inspired style that fits in perfectly with the young, edgy target group of the cultural centre. The Mahieu-Van den Bossche duo also imposes strict rules in order to create a unique visual language, both in print and online. For example, the letters are always centred and stacked on top of each other, with the aim of visualising a pillar.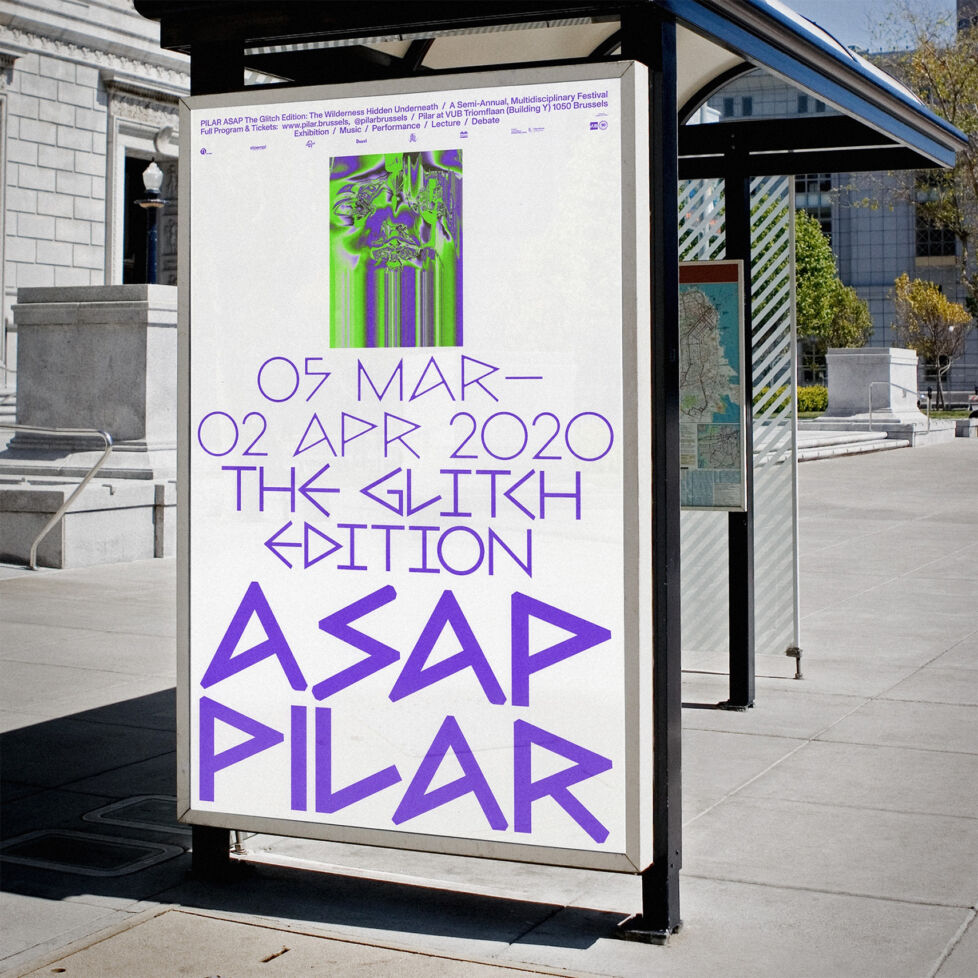 CAMÉLÉON - Designer Les Monseigneurs, Thomas Renwart - Company Verilin nv (Kortrijk)Interior textiles, tapestry, curtain, acoustic panel, room divider

VOTE HERE

Caméléon could be admired in Depart Kortrijk during the Kortrijk Creativity Week. An initiative of Designregio Kortrijk and its partners. See photo below.

What is a tapestry today and what relevance can it have? Today's living spaces need a modular system and must meet many requirements. Modularity is one of the needs to which Caméléon responds.

Caméléon are a series of graphic designs created from natural forms and translated into woven textiles. The linen tapestries are made to serve as tapestry in itself, but can just as well be used as curtain, paravent and carpet thanks to its multifunctional, local and durable yarn. The tapestries are numbered unique pieces and are timeless in both their image and their multifunctional use. Depending on the application and atmosphere, the right raw materials are deliberately chosen, but from what is available. The visual language is inspired by the fascinating history of the Amish quilts, in which colour, pattern and proportions of geometry reinforce each other.

Caméléon is the story of Les Monseigneurs and Verilin, which combines authentic craftsmanship, natural materials and local production with technological innovation. The unique character of Caméléon is only possible thanks to the open mind, the thorough craftsmanship and especially thanks to the innovative technological possibilities within their production unit. The company pursues the highest standards of quality and aesthetics for all its products, which it designs, makes and processes to order.

At Les Monseigneurs too, graphic and textile design is taken to the extreme. Each product is unique: Les Monseigneurs always looks for the right effects to give added value to yarns that are languishing or even devalued.