Innovative products from Designregio Kortrijk
Every two years, Designregio Kortrijk presents awards for the best and most innovative products from West Flanders. In 2019, the concepts of design thinking and sustainability were central to the jury's choice.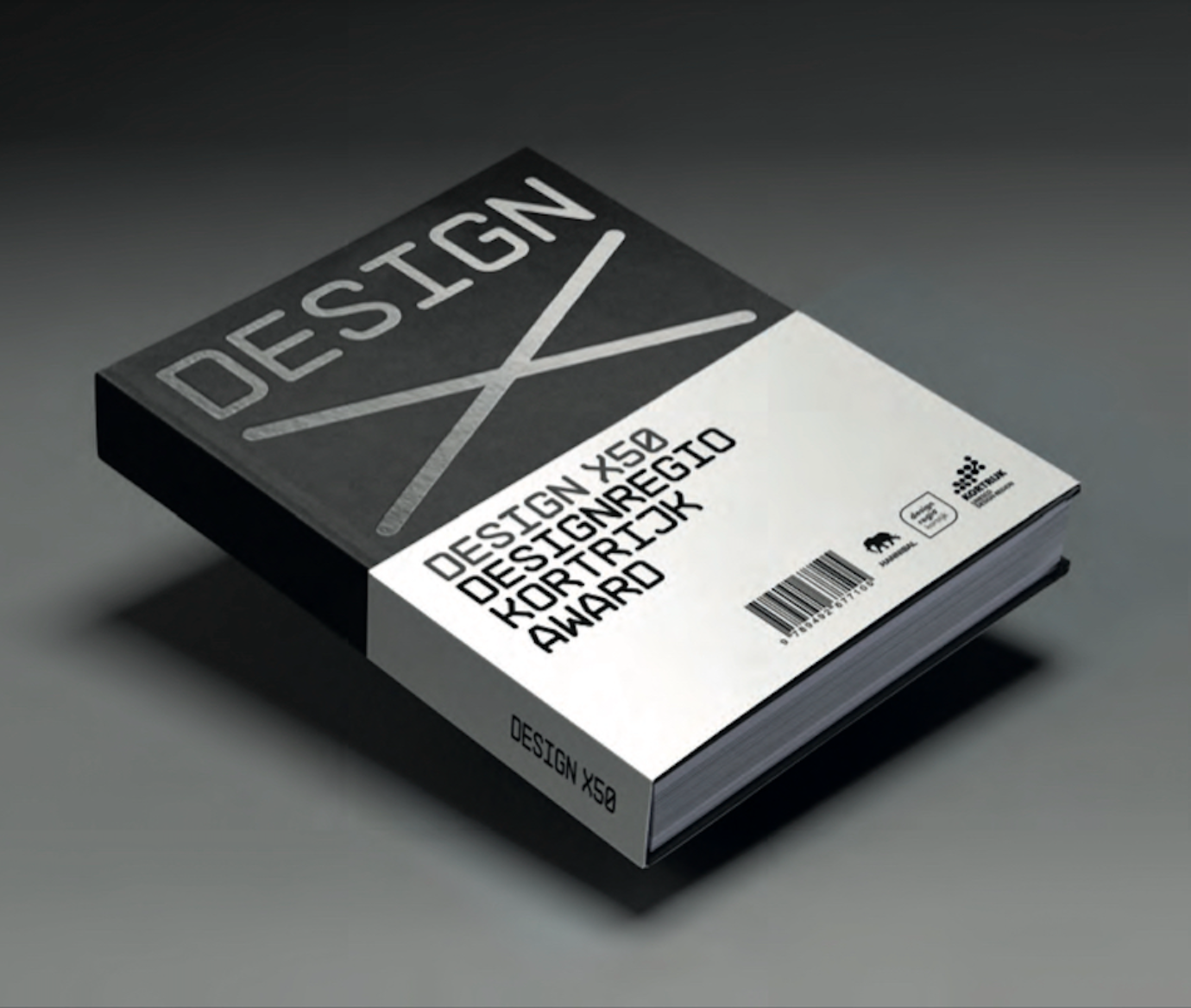 From delicate light creations in the shape of a Japanese lotus, through invisible doors, smart backpacks and modular swings, to state-of-the-art home automation and solutions in the fight against skin cancer. The variety of contemporary, creative design products is immense and fuels the belief in a positive development of the future. The book is published by Hannibal Publishing and was first presented during the opening event of Kortrijk Creativity Week. A selection of products was shown during the DESIGNX50 expo.
Tim F. Vander Mensbrugghe focuses in an introductory essay on the exact meaning of design thinking. He lets some experts speak and tests the definition against practice by talking to exciting young entrepreneurs.
This is a book for everyone who loves innovation, product development and creative entrepreneurship.
Author Tim F. Van der Mensbrugghe et al.
Graphic design Tim Bisschop
Publisher Hannibal Publishing
Scenography Charlotte Debussche
DESIGNX50 is an initiative of Designregio Kortrijk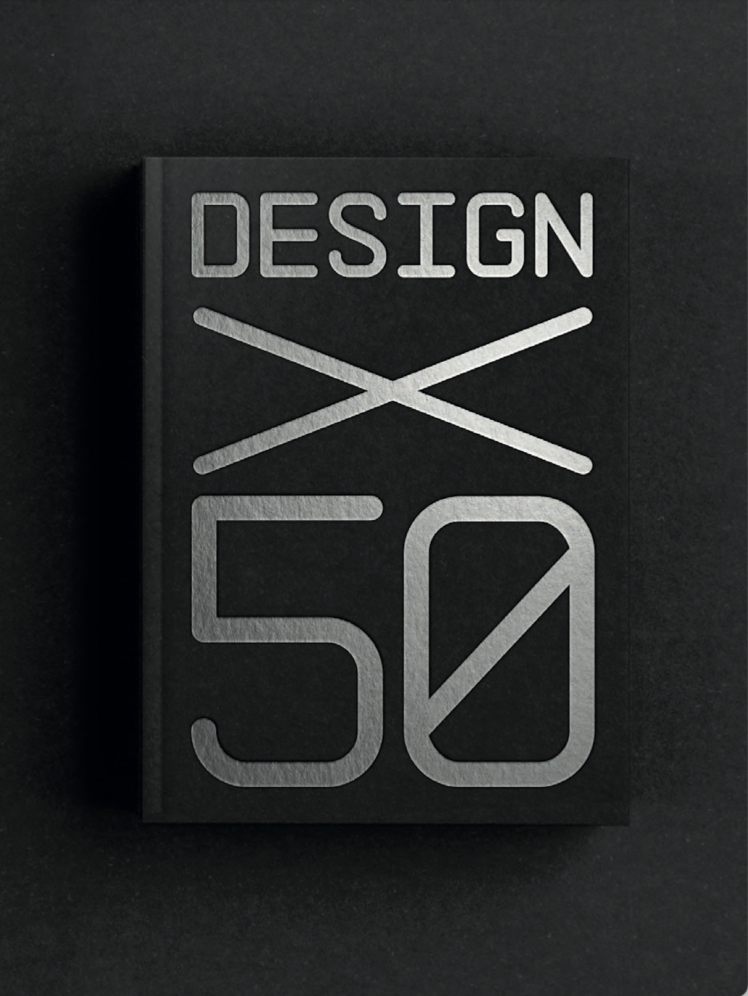 Past editions
In 2006, DesignX50 presented for the first time a selection of Kortrijk's most innovative products and its most striking design. They ranged from mirrors to lighting, from floor coverings to textile machines and from trailers to aeroplanes. There was only one constant. Each time it concerned companies that firmly believe in the leap forward as the only survival strategy in our rapidly evolving society.
In 2008, Designregio Kortrijk published the follow-up story: a new selection of fifty design products that were developed and marketed in the Kortrijk area. Together they symbolise what this region represents in economic terms and where it wants to go. Designregio Kortrijk also linked an exhibition to the book, in cooperation with the Broelmuseum. The scenography was in the hands of architect Steven Vandenborre.
In 2010, the third edition of DesignX50 was published at the start of the Innovation Festival Kortrijk. Together with the previous two publications 'Design x 50', this book forms a very special triptych. We selected a third wave of 50 design products that are developed and marketed in the broad region around Kortrijk. A professional jury made a strict selection from a wide range of high-quality submissions and ensured a qualitative presentation in a surprising publication. This third realisation 'DesignX50' is not intended as a showpiece, but wants to invite the reader to discover this region and its ambitions.
The fourth publication was presented during Design Week 2013. A professional jury led by top designer Stefan Schöning made a well-considered selection from a wide range of qualitative entries. They selected a fourth collection of fifty products and remarkable cases that have been developed in the broad region around Kortrijk and are often marketed worldwide. Once again, the aim was to create a formally attractive presentation with the collaboration of graphic designers Koen Bruyneel & Rosalien Eggermont and photographer Joost Demuynck. This fourth edition 'DesignX50' invites the reader to further discover this region and its economic dynamics.
In the autumn of 2015, the fifth edition appeared with a selection of 50 innovative products: DX50 no.5.
The book is more than a list, it also brings together a number of stories that highlight how companies from the region are chosen for important projects at home and abroad. World-renowned French fashion designer Jean Paul Gaultier called on Barco for his project in Paris. Bossuyt Grootkeukens worked on the kitchens for one of the top restaurants in Flanders, Hertog Jan in Bruges. For a new shop concept Hieronymus in Zurich, architect Glenn Sestig collaborated with the Kortrijk company Descamps. Thanks to their extensive technical knowledge and capabilities, Desmet, a family business specialising in bending wood, was commissioned to design beds for Leander in Denmark. In piano building, the Maene company is a name with international fame. The book discusses the Beethoven-Broadwood project. The sixth story presents Verilin, a company from Heule with high-quality textile production. They have recently started to profile themselves with customised and total furnishings in the field of textiles. Verilin collaborated with the French designer Rodolphe Parente, from which the Nuée collection emerged.
Six stories about craftsmanship, innovation and ambition from companies that are always looking for new challenges and markets. The diversity of the 50 selected products is very large; it is no longer just furniture or lighting.
The publication in three languages (NL-FR-ENG) is a showpiece of an ambitious region. Koen Bruyñeel, Jessy Van Durme and photographer Piet-Albert Goethals took care of the clear design. This time, the book is published by Lannoo, a large and trendsetting publisher from the region, and by Designregio Kortrijk.
In 2017, the innovative and creative power of regional products, included in the book DesignX50, was awarded for the first time by the Designregio Kortrijk Award. On the basis of best practices, innovative products are thus given the recognition they deserve.
The design of the publication itself also strives for an inventive form that reinforces the content. The book tells the stories behind the innovative companies and products; an essay by An Michiels (Biennale Interieur Kortrijk) sketches innovative design in the broader context of architecture and urban development.
With columns by design historian and curator Katarina Serulus and design journalist Leen Creve.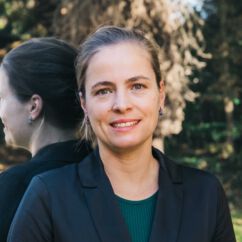 Lise Van Tendeloo
Every year, Lise invites promising international designers to Kortrijk for exciting residency projects. She is also responsible for the research and experimentation part of the organisation.