Ondek de ontwerpers van morgen.
WE ARE THE NEXT GENERATION is een jaarlijkse expositie georganiseerd door Designregio Kortrijk en haar partners sinds 2014. De expositie toont de Belgische ontwerpers van morgen, via een overzicht van de beste studentenprojecten uit het creatieve ontwerponderwijs, geselecteerd door een jury.
In 2021 ging de expo door van 15 oktober tot 14 november 2021 en maakte deel uit van WONDER – Kortrijk Creativity Festival, net als de Biënnale Interieur met zijn nieuwe design event 'PLEASE, HAVE A SEAT'. De locatie zijn de fabriekshallen op de voormalige site van Van Marcke in Kortrijk.
Inschrijvingen voor editie 2022 staan momenteel open!
Bekijk de vorige edities hier: 2020 - 2019 - 2018 - 2017 - 2016 - 2015 - 2014

Ontdek de exposanten van 2021

Product design
Industrieel productontwerp, meubelontwerp, textiel, mode, accessoires
TABISU, from biowaste to tableware, closing the loop – Mahe Plancke
Howest, Bachelor Industrieel Productontwerpen

Layers – Ameline Vandecasteele
Howest, Bachelor Industrieel Productontwerpen

FINGER food – Marie Van Dun
Howest, Bachelor Industrieel Productontwerpen

Stool/Bench – Hanne Cornette
KASK School of Arts Gent, Bachelor Interieurvormgeving, focus Meubel & Design

Dentelles – Kaat Verschueren
Howest, Bachelor Industrieel Productontwerpen

No Time To Waste – Isabeau Goddé
KASK School of Arts Gent, Master Textielontwerp

Please do touch - interact and play – Nele Demeulemeester
KASK School of Arts Gent, Bachelor Textielontwerp

How We Wear – Gaëlle Van Durme
Koninklijke Academie voor Schone Kunsten Antwerpen, Bachelor Juweelontwerp & edelsmeedkunst
Revaluation of discarded materials – Ulrike Pittomvils & Elise Vanden Broecke
LUCA School of Arts Gent, Master Textielontwerp

Scanned Daylight (series) – Michaela Armani
LUCA School of Arts Gent,Bachelor Textielontwerp

NODISH – Roxanne Cipers
Thomas More Mechelen, Bachelor Interieurvormgeving Open Hoger Onderwijs

Babel – Yani Vandenbranden
Thomas More Mechelen, VOMO Banaba Meubelontwerp

DERME – Marit Doorenbos
Thomas More Mechelen, VOMO Banaba Meubelontwerp

Tafel .⅓ – Thijs Smits
Thomas More Mechelen, VOMO Banaba Meubelontwerp

Palm protection – Lotte Beernaert
Universiteit Gent Campus Kortrijk, Bachelor Industrieel ontwerpen

Bioclock – Marie Janssens & Miguel Warmenbol
LUCA School of Arts Gent, Masterclass Design for Impact

Boat. – Lydia Cauwels
Howest, Bachelor Industrieel Productontwerpen

Perception and reality – Olha Timkova
PXL-MAD School of Arts, Master Jewellery Design

Seaslate – Groepswerk 2e bachelorstudenten
VIVES, Bachelor Ontwerp- en Productietechnologie

Bumblebox – Arno Vandercammen, Jasper Cypers & Floris Spithoven
Howest, Bachelor Industrieel Productontwerpen

Triplice – Titus Merlin
Howest, Bachelor Industrieel Productontwerpen

Reconnect – Casper Van Herzele
Universiteit Gent Campus Kortrijk, Bachelor Industrieel ontwerpen
Prototyping circulair – prototyping materialen bibliotheek
Universiteit Gent campus Kortrijk Industrieel Ontwerpen
Game design
Warsaw Apartment – Daniil Shashenkov
Howest, Bachelor Digital Arts and Entertainment
Ventis Harenae - Desert Ruins | Unreal Engine 5 – Juan Guillen
Howest, Bachelor Digital Arts and Entertainment
Hanging Gardens – Maria del Mar Martinez Tabaco
Howest, Bachelor Digital Arts and Entertainment
What about hedgehogs? – Ewout De Vos
LUCA School of Arts Genk, Master Game Design
Grafisch ontwerp
Grafiek en illustratie, reclamevormgeving, web en digitaal
Hack-tic – Lieselot Geirnaert, Pieter Olievier, Cesar De Greve & Wilma Vandemaele
Howest, Bachelor Digital Design & Development
Het Sociale Spel – Manon Lambeens
KASK School of Arts Gent, Master Grafische vormgeving
Tumtu Market – Martijn Mertens
Sint-Lucas Antwerpen, Master Visual Arts
Unfairytale – Nina Olivier
LUCA School of Arts Gent, Bachelor Beeldende vormgeving
THAI TONE KIT – Lina Bee Gillis
LUCA School of Arts Gent, Bachelor Visual Design
___'smiles – Camille Dewaele, Evelyne Debaenst, Axelle Delboo, Mathilde Waeterloos en Mona Demyttenaere
LUCA School of Arts Gent, Bachelor Visual Design – Studio Reclame
Mountain – Haocheng Zhang
Koninklijke Academie voor Schone Kunsten Antwerpen, Master Grafisch Ontwerp
De Verdwaalzaal – Lars Marginet, Jelle Denturck & Louis Ghekiere
Howest, Bachelor Digital Design & Development
Mijn paard betekent niets – Mirthe Vermunicht
KASK School of Arts Gent, Master Grafisch ontwerp
Le bon coin – Newt Contrino
KASK School of Arts Gent, Master illustratie
Cloud – Ward Vossaert
LUCA School of Arts Gent, Bachelor Visual Design
Between The Lines – Magalie Fierens
Sint-Lucas Antwerpen, Master Art, Design and Image in a digital context
Architectuur
Interieur, gebouwen, publieke ruimte en landschappen
Interieurarchitectuur en nostalgie – Katrien Diaz
KU Leuven Campus Sint-Lucas Brussel, Master Interieurarchitectuur
Spiegelwolk – Fien De Vos & Ruben Van Wonterghem
KU Leuven Campus Sint-Lucas Gent, Bachelor Architectuur
Perfect_Imperfections – Hannes Torrekens, Artuur Herman & Gaetan Van Beversluys
KU Leuven Campus Sint-Lucas Gent, Bachelor Architectuur
Activating Landscapes Through Memory: A Journey Through Cape Town's Strand Street Quarries – Chioma Obasi
Universiteit Hasselt, Master Interieurarchitectuur
Vacancy as Urban Asset – Heather Stael
KU Leuven Campus Sint-Lucas Gent, Master Architectuur
(UN)FAMILIAR. – Inez Leduc
KU Leuven Faculteit Architectuur, Master Interieurarchitectuur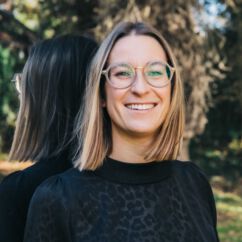 Lisa Declercq
Project Manager
Communicatie X Jong design talent X WONDER X Matchmaking
Contact opnemen