Milan Design Week 2023
Belgium is Design publiceerde opnieuw een kaart waarop ze alle Belgische designers die meedoen aan de Milanese designweek pinden op de locatie waar zij hun werk zullen tentoonstellen van 18 tot 24 april.
BELGIUM IS DESIGN promoot Belgisch design over de hele wereld en is een initiatief van 3 instellingen: Flanders DC, MAD - Home of Creators en Wallonie-Bruxelles Design Mode. Deze gezamenlijke aanpak is actief sinds 2011 en stimuleert en ontwikkelt initiatieven om Belgische ontwerpers, fabrikanten en producenten op buitenlandse markten te presenteren.
Hun strategie krijgt vorm door terugkerende aanwezigheid op belangrijke evenementen, zoals de Milan Design Week of de beurs Maison&Objet in Parijs. Ze wordt verrijkt door occasionele deelnames aan andere evenementen die de ontwerpers toelaten nieuwe markten te benaderen of die veelbelovende kansen bieden voor de internationale ontwikkeling van Belgische bedrijven.
De Salone del Mobile 2023 zal opnieuw een niet te missen evenement zijn, een gelegenheid voor de hele sector om samen te komen, hun specifieke projecten te bespreken, ideeën uit te wisselen en bovenal een kans om opnieuw bij te praten met onze internationale gemeenschap en de balans op te maken van de huidige stand van zaken in de designindustrie, samen met alle belangrijke spelers.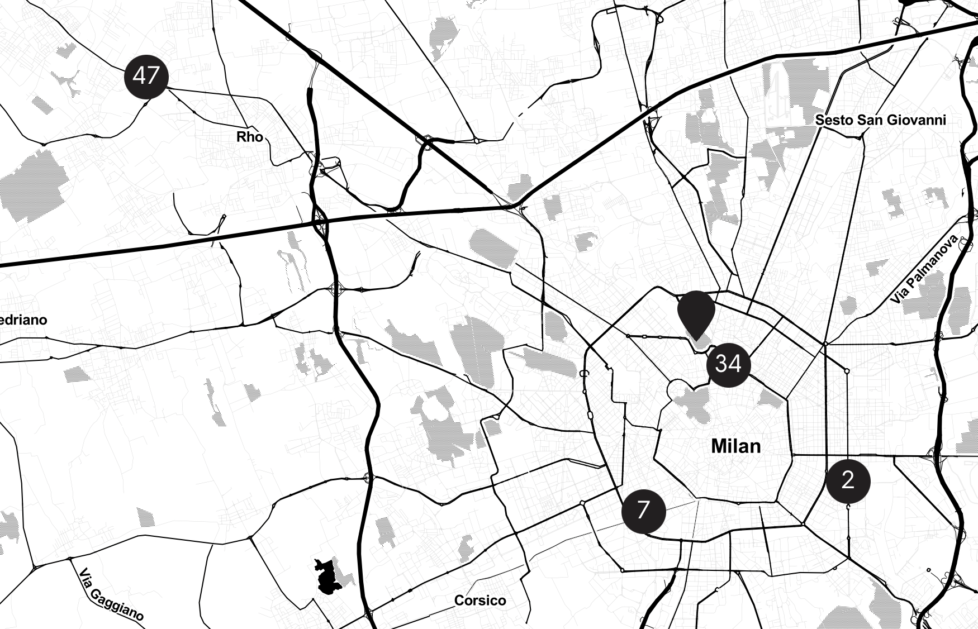 BELGIUM IS DESIGN publiceerde voor deze 61ste editie opnieuw een kaart waarop alle Belgische bedrijven en ontwerpers te zien zijn. Wij lichten graag enkele van onze regionale spelers uit.
- Alain Monnens: award-winning studio for product design, branding and photography
- BULVAR: lighting with a clear art deco stamp - 'roaring twenties'
- Copain: sustainable products that fit into an urban lifestyle
- D4E1- Howest: practical research on how healthcare stakeholders can become active creators of healthcare solutions through open design
- DELTALIGHT: leading specialists in architectural lighting design
- Arne Desmet - Fractall: design practice inspired by patterns and textures from nature and fascinated by artificial materials
- Gregoire Jielt: contemporary designer of furniture and interior designs
- HAVANI: new player on the market for high-end designer tables, effortlessly combining age-old craftsmanship with contemporary design
- MODULAR: innovative lighting technology to help, stimulate and inspire interior designers and architects
- RE-VOLT: mix of artisans and creatives with a passion for light and interior architecture
- Sep Verboom: Through the Livable platform, designer Sep Verboom brings together partners who are as diverse as the geography of the areas where they are located: from the Peruvian Amazon to Indonesia, local governments, commercial companies or NGOs.
- Sofie Deckers: Belgian designer based in Lausanne
- GARDECO: introducing art and design to a wider audience through the world's most exclusive interior design stores, renowned museum stores, art galleries, architects and interior designers
- UMBROSA: parasol collections that adorn the most beautiful terraces and the most renowned hotel groups worldwide
- EXTREMIS: furniture company that creates "Tools for Togetherness" that emphasize and reinforce the importance of human interactions, intelligent problem solving and sustainability
- LIMITED EDITION: custom-made rugs
- REVOR Bedding: combines luxury beds with high-tech mattresses, completely handmade in its workshops
- JARDINICO PARASOLS: company that opens doors to the perfect outdoor space with unique and exclusive furniture pieces for garden or terrace
- JORI: offering the perfect seating comfort in a sustainable way
- MANUTTI: luxurious furniture designs that inspire, fascinate and bring people together under a radiant sky
- MUUNDO: table collections inspired by the tactility of textures they encounter in their environment
- Wever & Ducré: state-of-the-art LED lighting
Salone Satellite voor jong talent
De SaloneSatellite wordt beschouwd als een uniek vertrekpunt voor jonge ontwerpers onder de 35 jaar en biedt 13 Belgische ontwerpers de gelegenheid hun werk voor te stellen onder de noemer Belgium is Design. Dit jaar markeert de 15e aanwezigheid van een Belgische delegatie op de SaloneSatellite.
De kracht van deze collectieve stand is de rijkdom en diversiteit van de door de jury geselecteerde profielen, maar ook hun gehechtheid aan een ambachtelijke realiteit. Van geweven textiel tot verfijnd hout, marmerresten of staal, traditionelegebaren gekoppeld aan vernieuwde industriële knowhow nemen de overhand. Ze bieden hun kijk op de nood van de industrie voor een hybride ontwerp dat meer op de mens gericht en poëtisch is.

Meer weten? Lees het hier!