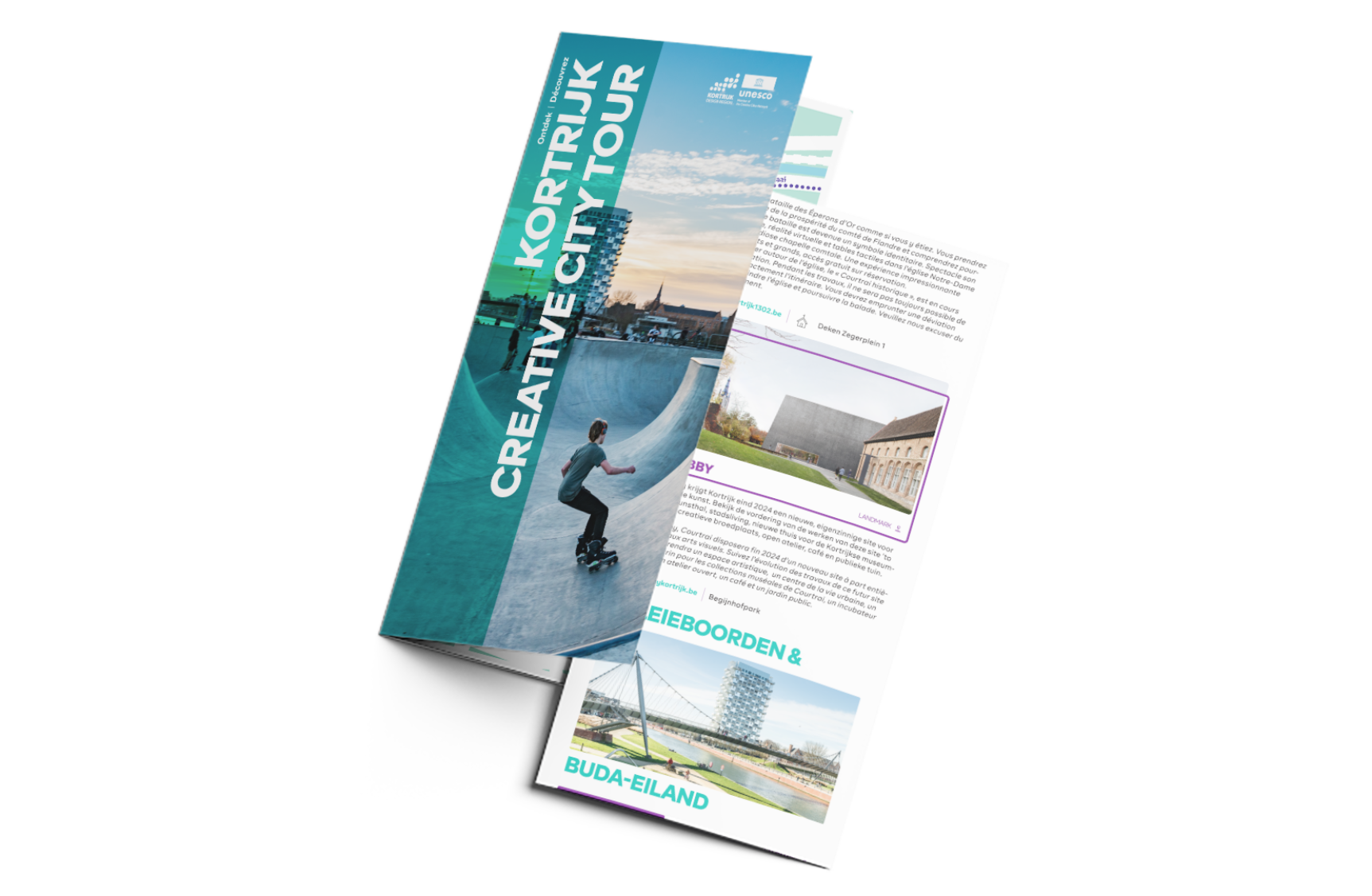 Kortrijk Creative City Tour - editie 4
Kortrijk Creative City Tour, unieke tips in 5 creatieve buurten
Toerisme Kortrijk ontwikkelde i.s.m. Designregio Kortrijk een wandelparcours die jou op sleeptouw neemt langs vijf creatieve buurten met unieke landmarks, shops en horeca in de Kortrijkse binnenstad. Creatieve vitrines en galerijen staan in de kijker. Events en festivals in Kortrijk krijgen een prominente plaats.
De wandeling werd ontwikkeld naar aanleiding van WONDER, Kortrijk Creativity Festival van 20 oktober t.e.m. 6 november, en laat opnieuw zien waarom Kortrijk deel uitmaakt van het UNESCO Creative Cities Network.
8,5 km langs 5 creatieve buurten
Ontdek het creatieve Kortrijk en laat je leiden van 1302 & Abby, via de Leieboorden & het Buda-eiland, Kortrijk Weide, de Muzieksite & Station tot aan Kortrijk Centrum.
Je maakt kennis met landmarks zoals Broelkaai 6, de Buda-tip, de Penta en het Muziekcentrum. De immersieve beleving van 1302 staat op het programma en je piept al even vooruit naar Abby. Naast deze creatieve plekken krijg je een selectie van prikkelende horecaspots en shops voorgeschoteld die langs of op de route liggen, puur 'slow shopping'. Als extra tip buiten de wandeling wordt de Doorniksewijk uitgelicht. Onderweg wordt de route opgefleurd door creatieve vitrines en galerijen.
Wil je echt helemaal ondergedompeld worden in het creatieve Kortrijk? In Kortrijk valt er altijd wel iets te beleven. Kom af voor jouw favoriet event of festival en blijf gerust logeren om nog meer te kunnen proeven van Kortrijk, creatieve stad aan de Leie.
De creatieve tips worden up-to-date gehouden en aangevuld op de website van Toerisme Kortrijk.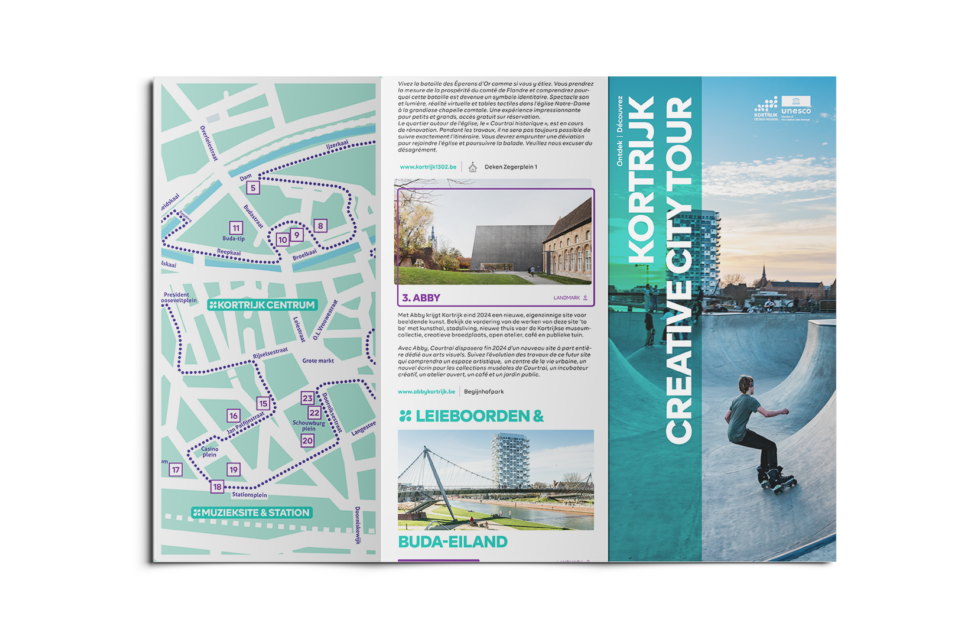 De wandeling is opgemaakt in 4 talen. Er is een Nederlands-Franse en Engels-Duitse versie beschikbaar. De Kortrijk Creative City Tour zit bovendien in het aanbod van de Kortrijkse gidsenverenigingen. Zij bieden hun versie van de wandeling aan voor groepen die onze creatieve stad komen bezoeken.